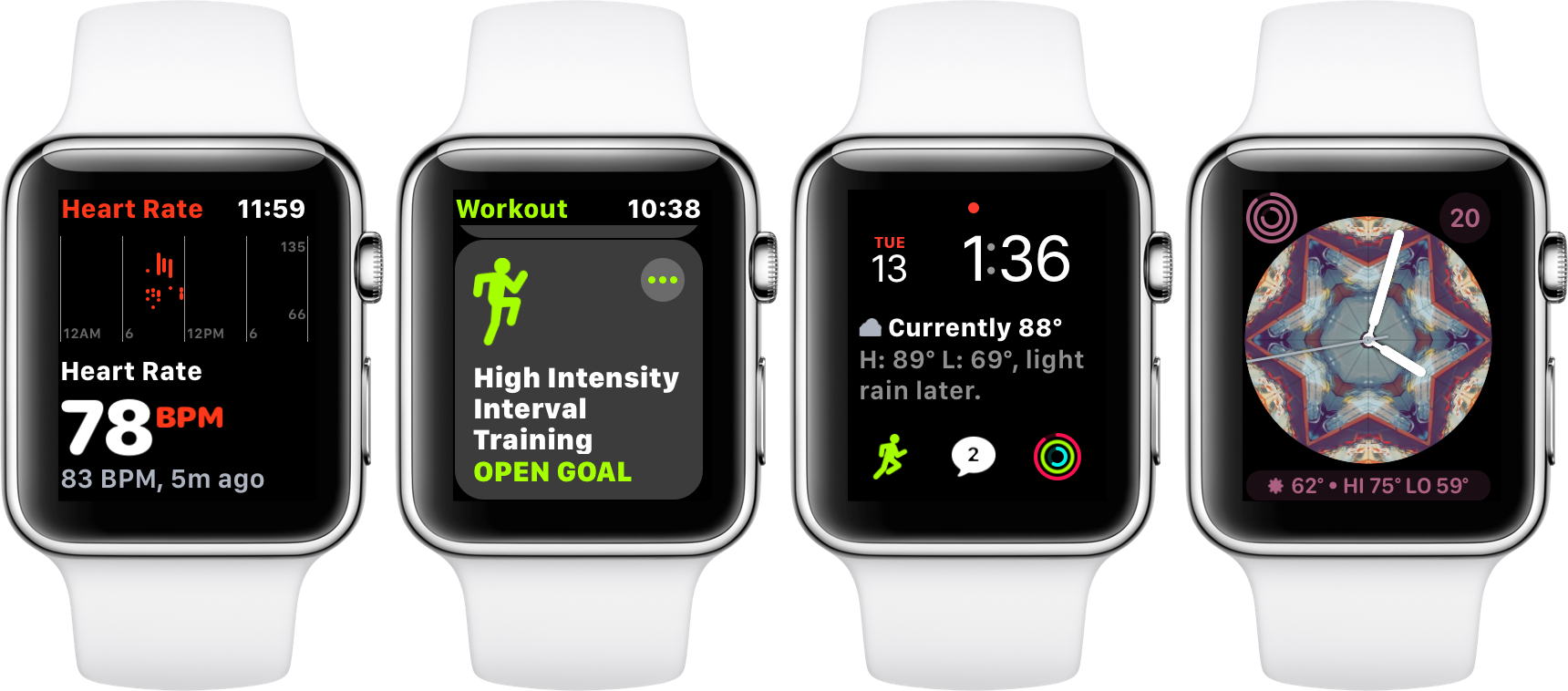 4
Minor
but
Welcome
watchOS
4
Features
June 20, 2017
The new Workout app, Heart Rate graph, Messages complication, and the Kaliedoscope watch face are all minor but appreciated upcoming watchOS 4 updates. Apple announced watchOS 4 at WWDC and will release it to the public this fall. In the meantime I've been checking out the beta to share some of my favorite features with you. I've written about the List View for apps, Siri Apple Watch Face, Watch Face creation shortcut, Now Playing complication, Phone keypad, new birthday wishes, and flashlight.
Here are four more small watchOS 4 features that you may enjoy as much as I do:
The Workout App is Faster and More Feature Rich
In watchOS 4, you can start a workout more quickly, and you'll have more options from which to choose. Sometimes I switch workout types in the middle of a workout. Now I can swipe over and tap New to switch from my elliptical machine to an outdoor walk, for example. The Apple Watch counts it as a single workout and gives me complete metrics at the end. Also, I can control my music within the Workout app. High Intensity Interval Workouts (HIITs) are the hot new thing, and in watchOS 4 it's a workout option. I have not tried out the enhanced swim features, nor have I had the opportunity to connect my watch to one of the new compatible gym machines, but I look forward to that.
See Your Heart Rate as a Graph
In watchOS 4, you'll be able to see not only your current heart rate, but you also your measured heart rates from throughout the day neatly displayed in graph form.
The Messages Complication Displays Your Number of Unread Messages
This is such a tiny thing, but I like being able to see exactly how many unread Messages I have waiting for me with just a quick look at the complication.
Make a Kaleidoscope Watch Face to Match Your Outfit
I know this is a little frivolous, but this is one of the watchOS 4 features that the fashionista in me particularly enjoys. The quick and easy to create Kaleidoscope face means you can make a cool Apple Watch face out of the exact colors of your outfit anytime. Just snap a photo of your outfit and use this shortcut to turn it into a Kaleidoscope face in seconds. The Kaleidoscope face is not static; it shifts every second of the day so it's never the same face twice.