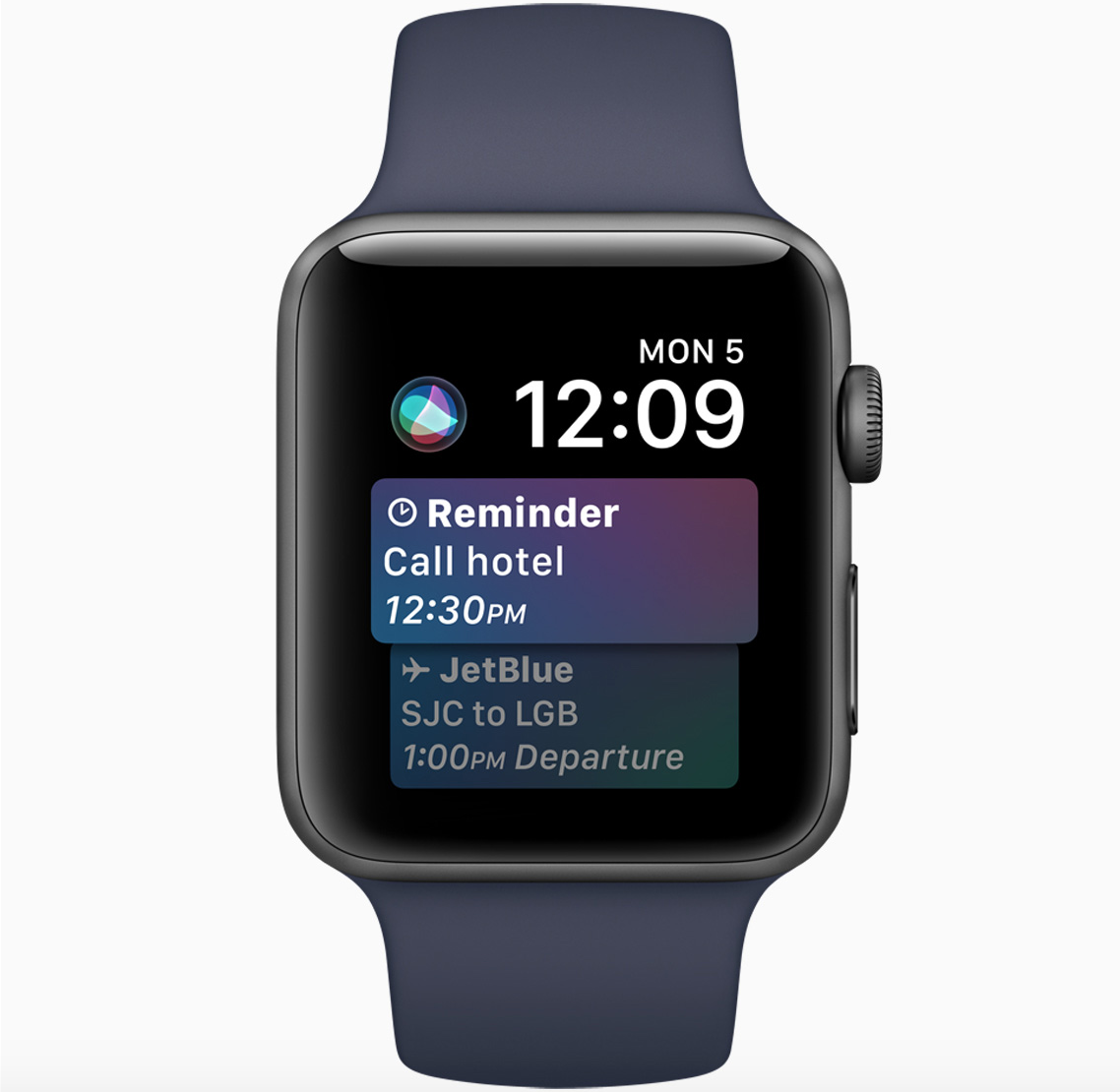 Siri
Apple
Watch
Face
in
watchOS
4:
First
Impressions
June 7, 2017
The Siri Apple Watch face feature at WWDC 2017 was one of the more interesting announcements for watchOS 4. But is it all it's cracked up to be? I've been using it for the last day or so, and here are my first impressions.
First of all, the Siri Apple Watch face does do exactly what was said at the keynote. It is a quick way to access Siri, in case saying, "Hey Siri" or holding down the Digital Crown for a couple of seconds feels too slow. Just tap the Siri complication and go.
In case you were wondering, the Siri complication is only available on the Siri Apple Watch face. However, you don't have to use the Siri complication here, you can actually put a number of complications, including some third-party complications, in that spot instead. There is also a complication above the time, where you can place any complication that fits.
But the Siri face's selling point isn't really the complication, per se. It's the face's intelligence, the way it changes depending on time of day or situation. I might not be the best person to test the Siri Apple Watch Face, since I don't have a flight to catch in the next few hours, I don't have a ton of reminders going off at all times of day, and I don't have a full calendar every day. When you don't have something pressing, the default face components are a little odd.
For example, right now, while I have no upcoming appointments on today's calendar, the Siri face is showing me a picture of my son. When I tap on it, five photos that include him show up, with the words, "Portraits of … Over the Years." I don't know why. I didn't set up an album like that. I have an equal number of photos of him and my two daughters on my phone. Does Siri somehow know that my son is spending the summer volunteering on the other side of the planet, and I miss him? That I've been emailing and texting him more than usual lately? Another odd thing that Siri Apple Watch face has shown me is a quote: "There's more to health than fitness." I don't know why. It is because I disabled the Breathe app as a data source on this face? The other odd thing I noticed was the face showing me was sunset data, at noon. None of these are bad things, just unexpected.
The Siri Apple Watch face has been extremely useful, too. When I set a timer, that timer's progress is front and center as it runs down. When I have an upcoming calendar event, the Siri face lets me know. And a nice, unexpected one: when I was shopping at Target, the Cartwheel app appeared in the Siri face. One tap took me to my barcode for scanning at the register.
I believe the Siri Apple Watch face will become more useful the more you use it, and the more you have scheduled on your iPhone. The Siri face does make it easier to keep on top of important appointments and information.