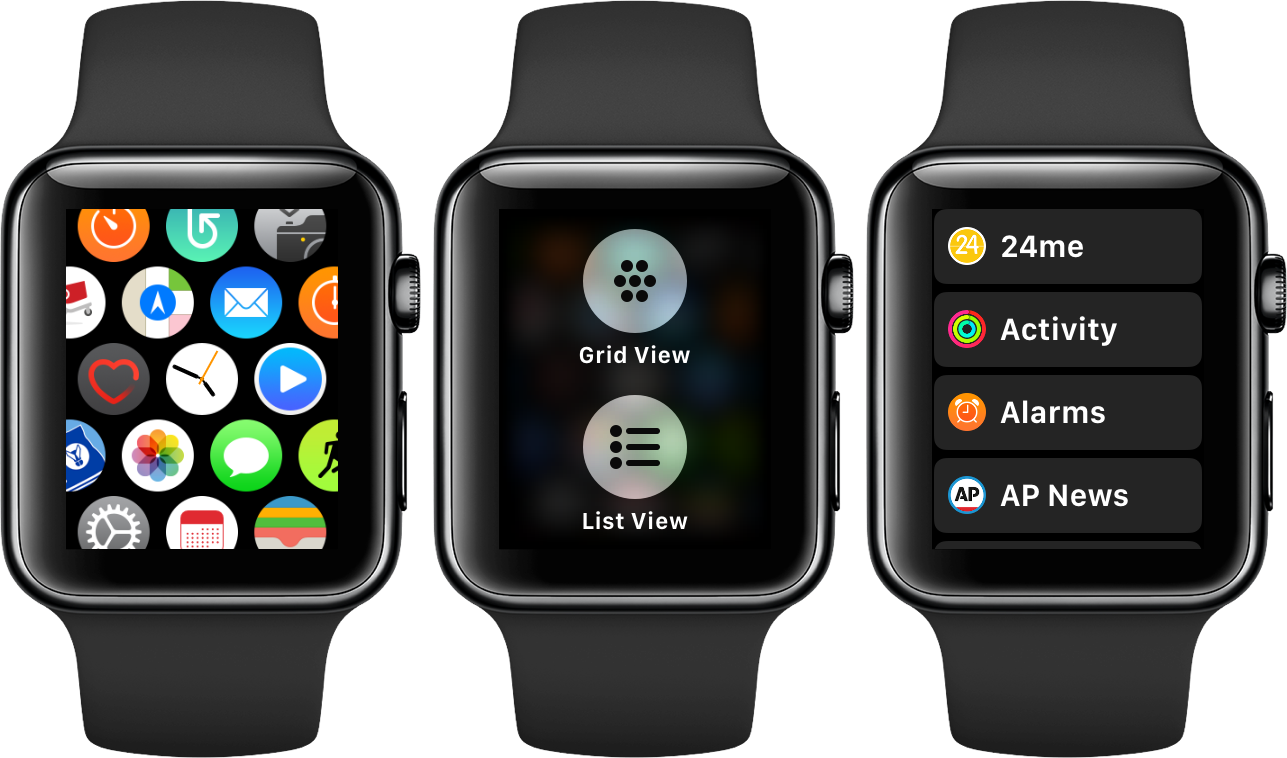 Get
Rid
of
the
Home
Screen
Honeycomb
App
Cloud
in
watchOS
4
June 6, 2017
That's right, you will finally be able to ditch the dreaded home screen "honeycomb," or "app cloud," or Grid View as it's known officially, when watchOS 4 is installed on your Apple Watch. I've installed the watchOS 4 developer's beta, and playing around with its features. I was delighted to find this one, which was not mentioned at yesterday's WWDC 2017 keynote speech.
Some Apple Watch users have gotten creative with their home screen honeycomb designs. But many have decried its existence and complained of its inelegant and awkward design. The Dock introduced in watchOS 3 alleviates the problem somewhat, at least for your favorite ten apps. Well, your next favorite, actually, as your very top few can be accessed via complications on various watch faces.
Speaking of the Dock, it's been redesigned in watchOS 4. As announced in the keynote, it has been changed to vertical, rather than horizontal. You can choose whether you want your Dock to show your most recently used apps, or ten favorites of your choice.
So how can you be rid of the Apple Watch home screen honeycomb once watchOS 4 is released?
Navigate to that honeycomb. You can still do this by pressing the Digital Crown. Or, when you scroll to the bottom of your Dock, you'll see the option to go to All Apps.
Once you're in the honeycomb, Force Touch your Apple Watch screen. This will bring up a menu with two choices: Grid View or List View.
Select List View, and then you'll never have to look at a honeycomb again.
The List View is alphabetical, and there does not seem to be any way to re-order the apps. Still, if you know the name of the app you want, a quick scroll of the Digital Crown or swipe up to the right part of the alphabet will take you right to the app of your choice.
Keep in mind, this is the first beta for watchOS 4. There will be changes before watchOS 4 is released this fall. You can read more about what's coming in watchOS 4 here, and I'll be writing more as I continue to test out the beta. Feel free to tap my byline and reach out to me with questions or ideas for future Apple Watch articles.