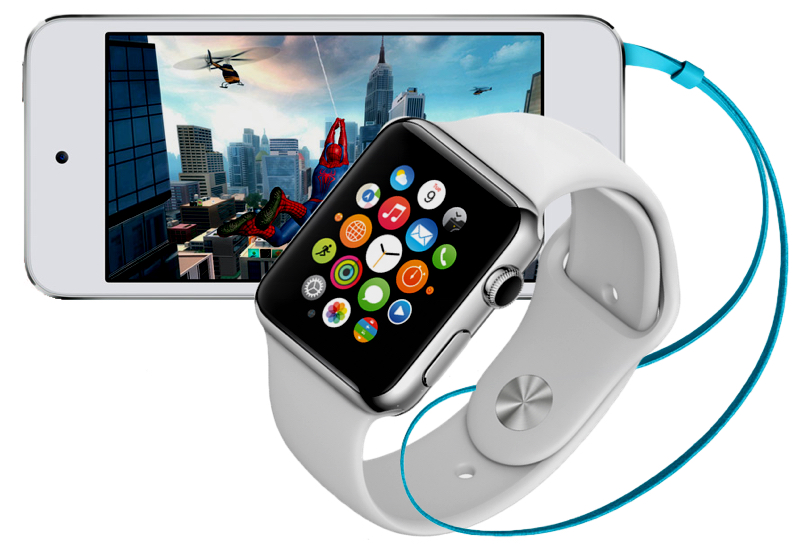 Why
Apple
Watch
And
iPod
Need
Each
Other
July 7, 2015
With tracking firm Slice Intelligence predicting doom and gloom for domestic Apple Watch sales, it's hard to be enthusiastic about the wearable's first go-round in the United States market. Much has been said of Cupertino's latest must-have breaking all prior launch device records, and though that's a definite talking point, it's not all that impressive in retrospect: While I don't have access to the backlog of applicable numbers (I searched and searched, believe me), I'd venture that Apple Watch ranks rather poorly among the historic Apple stable when considered in terms of both installed user base and market cap at time of launch. In fact, I'd reckon that, by either of those metrics, Apple Watch is likely the poorest-selling launch product in company history. Just like Force Touch, it's all about context.
And in the context of the here and now, first-generation product notwithstanding, Apple Watch has a real problem.
Sure, it's easy to compare its slow overall start with the rest of Apple's mobiles this last decade and a half, but each one of those (iPod, iPhone, and iPad) had much more compelling and distinct use cases right out of the gate. Consumers didn't need convincing. The iPod put thousands of songs in your pocket and made the musical micro-file a household phenomenon. It brought the Walkman into the 21st Century. The iPhone, even without 3G and a third-party app store, was immediately alluring as it mated a functional cellphone with the iPod's musical acumen, inbuilt apps like Safari, YouTube, Mail, and Maps, and a brand new touchscreen keyboard that people were simultaneously leery and curious about. The iPad, as the first viable and affordable consumer tablet, continued that trend, capitalizing on iPhone's now-well-supported third-party app ecosystem and upscaling the handset's (and iPod touch's) productivity capabilities, all while adding big screen mobile video and gaming to the mix. Everyone wanted one, and sales didn't slow down for several years after launch. And as soon as the new iPads (and, perhaps, the rumored iPad Pros) hit the market with Taptic Engine and Force Touch and split-screen technologies onboard, I think those sales will pick back up again. I don't think iPad is in trouble.
But I do think Apple Watch is.
There is a small caveat, and that's that Apple Watch is an international product by design (albeit, at this point, so is everything else Apple makes). But lagging sales in the US rarely indicate glowing sales elsewhere in the world.
And the irony of Apple Watch's rough go of things isn't lost on the blogosphere. Many commentators, including all of us here at WatchAware, have colloquially christened this thing the "iPod 2.0." Of course, iPod sales are currently in the toilet, so that comparison — which would be high praise five or six years ago — is maybe accurate now for all the wrong reasons. If Slice's numbers are to be believed, the iPod 2.0 is on pace to share similar contemporary sales as iPod 1.0.
And if that's true, the news — according to many — is very bad indeed. Forbes' Ewen Spence recently reported on a shakeup at Apple's homepage, prefacing a segment about iPod's demise with "Goodbye, Old Friend."
It's not all wonderful news from WWDC, as the eagle-eyed Jeremy Horowitz spots the new location for the iPod in the Apple.com homepage. Strictly speaking there is no location – the iPod devices have been moved away from the top banner and now lurk at the foot of the new Apple Music section…

Anyone holding a candle for an updated iPod Touch should be ready to extinguish that hope. The iPod is coming to the end of a long and graceful career.
This news is nearly a month old, yet it's newly relevant on the news of Apple Watch's unexpectedly poor performance. So though the iPod's current standing (kneeling? lying?) is not seemingly Apple Watch-related on the surface, it is Apple Watch-related once you examine things a bit deeper. The wearable, after all, is well-established and intentionally positioned as a sort of Apple ecosystem tie-in, and support of the device is rumored to be expanded to other Apple products in the near term. Since Apple is in the documented habit of encouraging and promoting as much device parity and interoperability as possible, perhaps it makes a lot of sense that Apple uses its wearable as an anchor for more than just iPhone. This is doubly true when considering the financial issues facing Apple Watch and iPod alike.
All that considered, here's my take on Spence's assertion: The iPod is not dead.
While the portable music player has been relegated to a decidedly non-headlining spot on Apple's website, it's still actually there and you can still buy them in stores. Instead of a hint that the line might be dying, then, I tend to consider this to be a bigger hint that the line is about to get refreshed big-time.
And it makes good sense that it should be.
With the much-lauded and brand-new Apple Music, the overwhelming emphasis is on streaming, which is certainly fine for what it is. Streaming is useful — and even preferable — when in Wi-Fi range of a known network. I use Amazon Prime Music frequently around the house myself. But on the road, streaming eats up my data plan, and that's not ideal, so music downloads for offline play — for me and tens of millions of others — aren't going anywhere. Plus, with Apple Music's robust artist discovery system, perhaps people will start buying iTunes at an even higher clip than they currently do.
However, the snag there is that Apple Watch, widely considered — at least philosophically — to be the iPod's logical conclusion, only sports a measly 8GB of onboard storage, with a mere fraction of that reserved for side-loaded music. For the iPod crowd and the music aficionados upon whom Apple built its mobile empire, that's a pittance hardly worth considering, and it renders Apple Watch a far cry from a worthy iPod replacement.
But Apple Watch shouldn't replace iPod at all. It should work with it — just as the wearable currently works with iPhone — and allow sales to bolster each other. Sure, many of us already own iPhones (which are now and will remain Apple's bread and butter), but there is a distinct market — and a rather large one at that — for non-cellular devices like iPod for use around the house or in the hotel or at the eatery et al.
Here's how I see this playing out: Apple is going to retool the iPod family, likely using guts from iPhone 5 or thereabouts in a sort of modified "C" version chassis. It'll obviously be sub-spec from any current iPhone variant, and it'll be priced accordingly, perhaps at a slightly higher premium piggybacking off of Apple's newfound "luxury brand" cachet. This way, the margins make a little more sense, and Apple is justified in its efforts to keep the line going.
The upshot of this approach is palpable. Apple can use the cheaper iPod to entice a younger crowd of potential Apple Watch buyers to shell out for the setup. Let's say some kid really wants an Apple Watch (and that's not a stretch, as many kids do). But that kid is mostly beholden to his or her parents' pocketbooks, and while $650 or so for a 38mm Sport plus a new companion iPod seems like big bucks, that's less than what most iPhones cost off-contract. And that's the rub. While a good many parents might be willing to buy their kids the aforementioned combo, that willingness drops off precipitously when you toss in contracts and monthly service fees that drive the proposition into the four figure range.
I've heard the flip-side to this argument, too, that Apple Watch is pointless without a cellular connection to ride atop. However, this is shortsighted and ignores the demographic for which I'm advocating. Children aren't generally jet-setters. They're not out and about and running errands all day. They go to school (where they ought not to be engrossed with any manner of personal iDevice anyways), they come home, they have a snack, they play. And most of that playing is done indoors, where there's usually a Wi-Fi connection. Heck, I'm 32 years old, and most of my day is spent inside. It's no coincidence, then, that most of my Apple Watch use cases revolve around the house. And there are plenty of those now, with even more in the offing: notifications, home automation, alarms, walkie-talkie features, remote helicopter parenting apps, etc. Best of all, none of these require a 3G or LTE connection to work flawlessly. But I'm not just thinking of myself, here. Yes, for once, I'm thinking of the children!
But I'm also thinking of the elderly.
They, too, spend most of their days indoors. I've already written about the merits of a Life Alert style Apple Watch system, and that definitely wouldn't require an iPhone to work. A Wi-Fi-connected iPod would function just fine. And once Apple works out the kinks for its medical-grade deep health sensors, it'll make even more sense for seniors to have a pocketable device that serves as the hub for their glucose monitoring, blood-pressure-checking, arrhythmia-alerting, apnea-detecting Apple Watch. But what wouldn't make much sense would be tethering all that capability and convenience to a smartphone that said seniors — most of whom operate on a fixed income — can't really afford. Again, it's not the upfront cost, it's the long-term plan commitment and monthly fee.
So I've established (I hope!) that a non-cellular Apple Watch package makes sense.
If that's the case, though, wouldn't a non-cellular, non-tethered Apple Watch make even more sense?
From a usability perspective, if Apple were to give this device a keyboard for entering network credentials and user data and contacts and so on, maybe it would. But from a hardware-seller's perspective (read: "from Apple's perspective"), it absolutely does not. Apple exists solely to sell hardware. Period. There is no altruistic inclination on Cupertino's part that isn't explicitly "Designed in California" to move more product. Everything the company does politically, environmentally, and socially is dedicated to establishing and maintaining an image that an acceptable, calculated, and growing global minority of consumers can get behind. And it works. But it will never ever preclude Apple from maximizing hardware sales, and nobody should be so naive as to believe otherwise lest they fundamentally misunderstand the brand.
So, no, I don't see the logic behind Apple untethering Apple Watch in a Wi-Fi-only capacity. (In fact, I barely see the logic in untethering it from iPhone with its own cellular radio.)
But I do see the logic in opening Apple Watch up to a newly-designed, higher-margin Wi-Fi-only iPod touch, because lagging sales are often reversed by the right kind of synergy, and both product lines need a shot in the arm.
The best part is, everything written above applies equally to iPad, regardless of age group. Should Apple open Apple Watch up to iPod and iPad, sales of both would invariably increase. Yes, iPad is in better shape than iPod re: fundamental future proofing, but the tablet's unacceptably slow consumer upgrade cycle can be accelerated dramatically by adding a new accessory to the mix.
That said, if Apple Watch stays married to iPhone alone or simply untethers itself completely one way (LTE) or the other (Wi-Fi), I don't think the company moves close to my earlier estimate of 100 million units over the next five years. However, if Apple expands its support base to every mobile product they make (plus Mac) — and uses Apple Watch and Apple Music to reimagine the iPod family — I think every product sees an uptick in sales in the very near future.
Apple is a hardware company. And nothing moves hardware — not hype, not advertising, not celebrity endorsements, not high fashion praise — quite like other hardware.
Apple Watch is dying, and iPod is dead.
Long live them both!