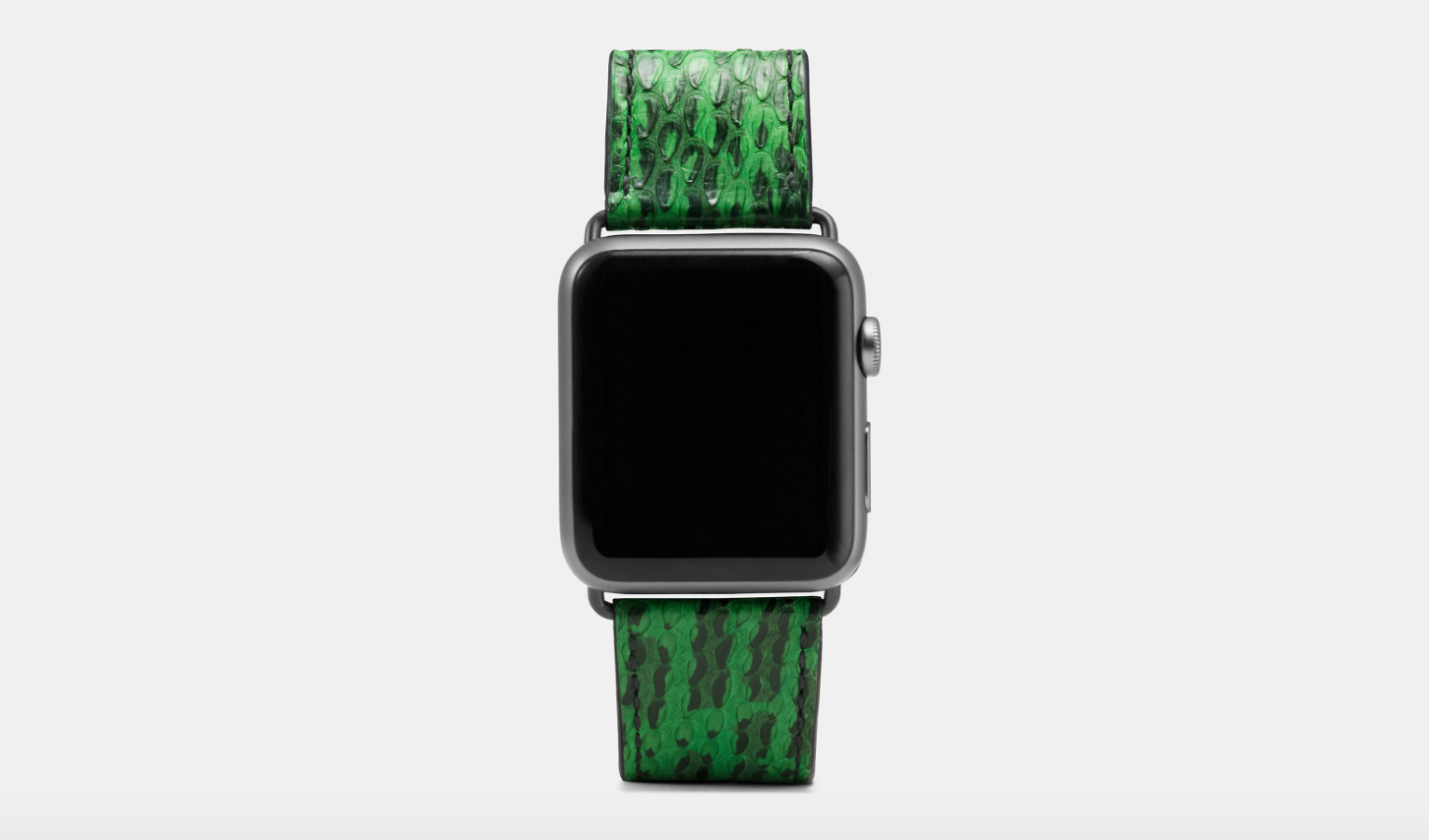 New
Coach
Apple
Watch
Bands
for
Spring,
30
Percent
Off
May 6, 2017
Coach has released some new Apple Watch bands for Spring, while discontinuing some of their previous models. Additionally, they are 30 percent off now.
These Apple Watch bands were first released nearly a year ago. The original styles included Wild Beast Camo, Leather with Charms, and Tea Rose Appliqué. This past fall, they released some more: Rexy, Studs, and several more colors of the original styles. At the same time, some of the original colors and styles were discontinued.
Now Coach has some new offerings, and a promo code for 30 percent off: MOM17. There are two new offerings: Snake in one color, Kelly Green, and Floral Printed Leather in two colors, Kelly Green and Chalk.
Here is more information about Snake from Coach:
Coach craftsmanship meets cutting edge technology. Made of genuine snake and smooth Coach glovetanned leather, this Apple Watch™ strap is both exotic and comfortable on the wrist.
Snake runs $150 (minus 30 percent with code MOM17) and is for the 42mm Apple Watch only.
Coach's description of the Floral Printed Leather:
Coach craftsmanship meets cutting edge technology. Crafted in Coach glovetanned leather, the solid-colored band has a signature floral and marker scribble print on the reverse.
Floral Printed Leather is $125 (minus 30 percent with code MOM17) and is only for the 38mm Apple Watch.
I wish they'd reversed the Floral Printed Leather. The floral print is so pretty but no one would ever see it on the inside against the wrist.
Tea Rose Appliqué in Black, Chalk, Tawny, and Beechwood are still listed for sale on the website but not immediately available: all four colors say either pre-order or backorder. Rexy is still currently available in Dark Saddle or for pre-order in Black. Wild Beast Camo, Studs, and Leather with Charms have been discontinued on the website, but if you want one of those you could check your local stores for availability.
.