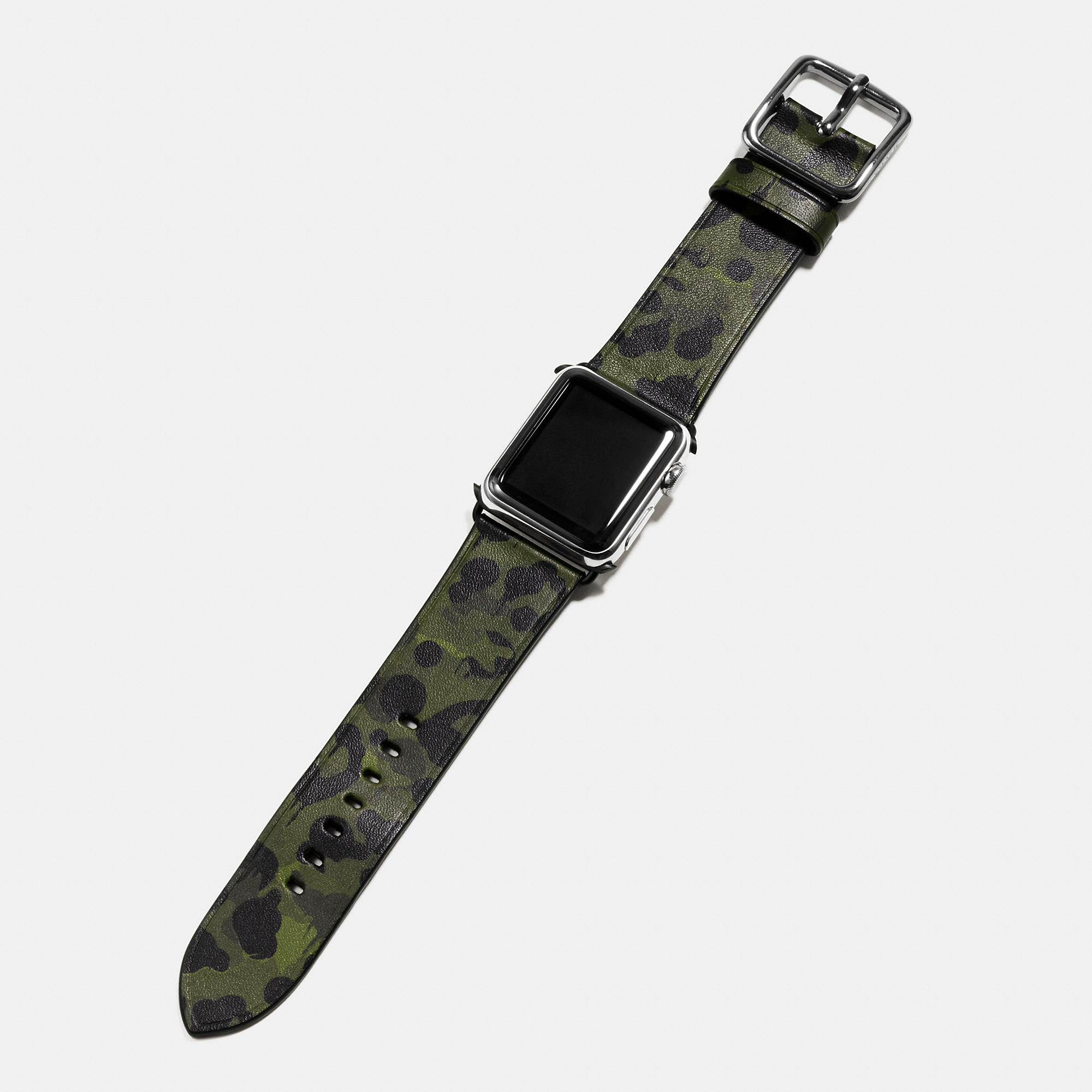 Some
Coach
Apple
Watch
Bands
Available
Now
June 18, 2016
It's official, the much-anticipated Coach Apple Watch bands are up on the Coach site and some of them available to purchase. I've rounded up a description and photo of every style and color up on their site below, both the available and unavailable models.
While previous reports indicated that the Coach Apple Watch bands would be just for women, some of the bands are listed under Men's Watches as well as Women's Watches on Coach's site. These unisex bands, called Wild Beast Camo, come only in the 42mm size. There are three colors offered: Denim, Military Green, and Saddle. The price for a Wild Beast Camo band is $125. This is the only model that is currently available, as of this writing.
Under the heading of Women's, there are two additional styles. The Apple Watch Leather Watch Strap with Charms comes only in the 38mm size and costs $125. All of them have a tiny metal Coach hangtag attached, plus a second charm depending on color. The Black band comes with a tiny dinosaur skeleton attached, Chalk comes with a jeweled flower, and Saddle sports a diminutive star. This model is not yet available to purchase.
Lastly, there's the Apple Watch Tea Rose Appliqué Leather Strap. It comes in Black, Chalk, and Tawny and only comes in the 38mm size. I think it's pretty cute, each one appliquéd with nine roses of different colors and styles, but it certainly won't be everyone's cup of tea. This is the most expensive style of the set, running $150. It's also currently unavailable for purchase, but I would think that these women's styles should available soon.
The metal hardware on all of these bands appears to be a black or space gray, and there is no option to choose different adapter colors. I noticed that in some of the pictures, namely the Wild Beast Camo photos, the adapter appears not to fit the watch at all, hanging out from either side. I hope this is only sloppy photoshopping on the part of Coach's photographers, and not a sloppily designed product. Still, it's surprising to see such an error coming from a high-end company known for its attention to detail. I was also disappointed to see that only one of the three models is available to buy now. I'm guessing that Coach prioritized the release of the unisex band in time for Father's Day.