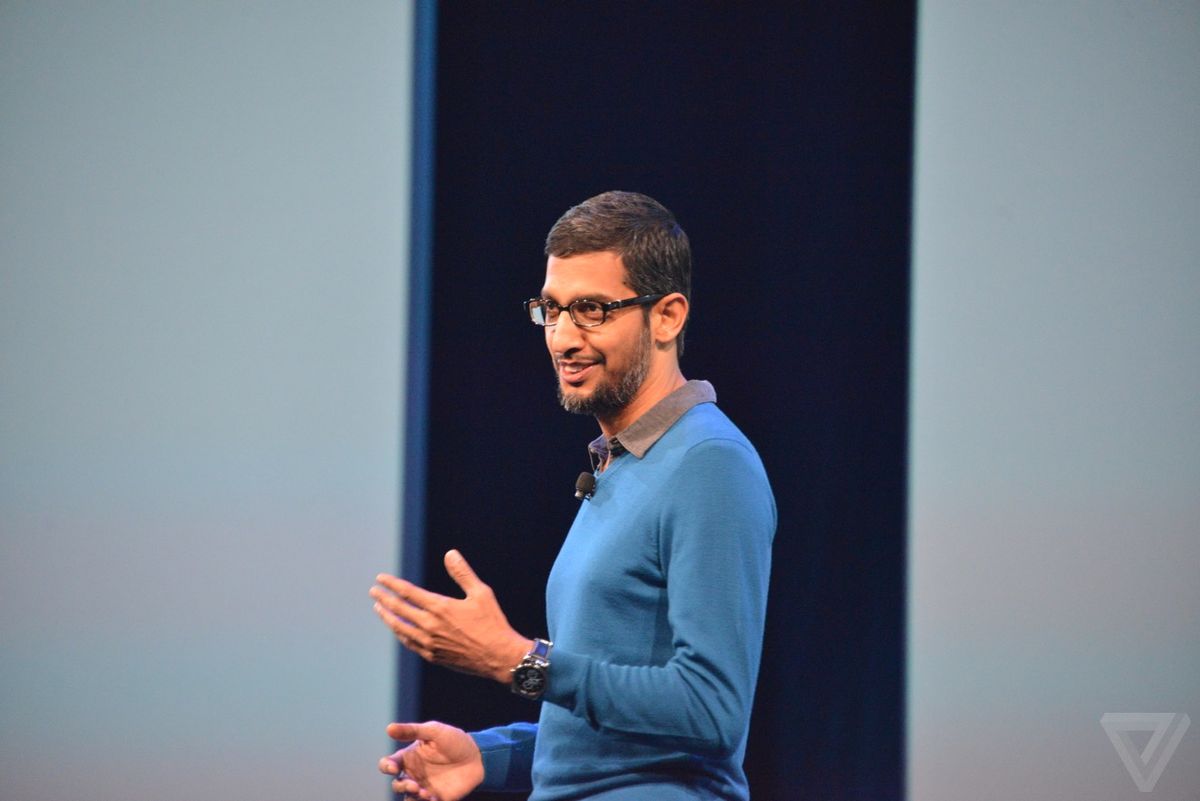 Google
Doesn't
Seem
To
Care
About
The
Wrist
May 28, 2015
Today, Google hosted its annual developer conference dubbed Google I/O in San Fransisco at the Moscone Center where, coincidentally, Apple will be holding their annual WWDC event just two weeks from now. Then and there, we're expected to see many things, one of which is the presumed highlight of the show, our first look at the native Apple Watch SDK.
But today was Google's time to shine, and it was their best chance to showcase their response to Apple's next big thing. During the company's keynote, developer David Singleton took to stage to explain some of the new Android Wear updates. He starts out by saying "we love watches" and then basically goes through all the features that were already released a few weeks ago. He demonstrated things like sketching (I wonder where they go that idea), asking for an Uber car via the "OK Google" command, and announced that there are over 4,000 Android Wear apps available. (4000 apps after over a year on the market? Apple Watch has been out less than five weeks and its already got 4900. Surely by now, everyone understands why app support is such a huge point in Cupertino's favor.) His stage time lasted all of 10 minutes before he was whisked off the platform by Senior Vice President, Sundar Pichai.
By the end of the keynote, one thing was almost comically clear: Apple is in the best position possible to win the wrist. Frankly, Google doesn't seem all that passionate about it. They cared a lot more about Glass, which was a failure even before anyone knew about it, and the company didn't even bother to embellish its Android Wear platform with even half-respectable ad sense. The whole presentation was poorly done with bad photos and a halfhearted live demo of the stupidly huge LG Watch Urbane running the latest Wear build. They didn't even have the right date on the watch.
If Google actually cared about this product category, I think they would have done a much better job showing it off. Sure, Apple's March event was basically terrible, but at least it was pretty. And Google did have its pretty moments today, too. In fact, they did do an incredible job demoing Google Photos, a new service that lets users back up an unlimited amount of pictures to Google's servers, for free.
This is all to suggest that, right now, I don't see how Google has any chance of succeeding in this space. There was no new hardware announced (though that may change soon) and there's just no enthusiasm for what Wear is capable of (and it's plenty capable). They made no mention of anything meaningful in health and fitness, and the didn't address the slowly-coming-into-focus idea that the wrist can really be a great place for technology. It all just felt very blah. Google ruahed Android Wear to market once the industry figured out that Apple Watch was imminent. They were eager then, but they seem to realize their year-long head start was eclipsed in about two hours on one Friday in April. They could certainly compete with Apple in the wearables space if they'd investigate further all the new use cases the model provides, but it seems that the masters of search… have stopped searching.
Maybe Google has a huge wearables-only event up its sleeve, but I/O is usually the show where they announce their biggest initiatives for the year. Unfortunately, it just doesn't seem like Android Wear something Google cares that much about. As an Apple Watch fan, that's depressing. Competition keeps Cupertino on its toes. Maybe they'll get a bit of a push from Pebble.