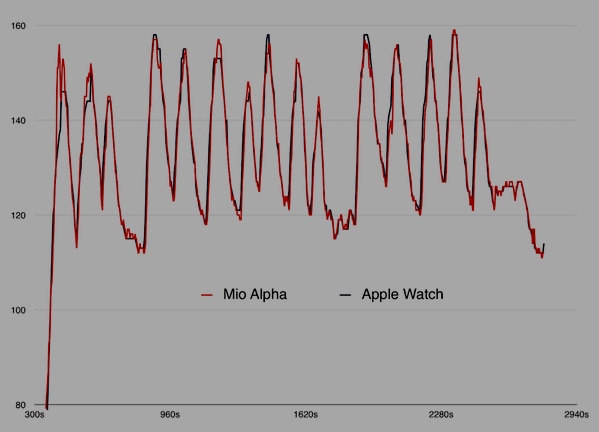 The
Apple
Watch
Heart
Rate
Monitor
Is
Even
Better
Than
You
Thought
May 8, 2015
If you were wondering just how good the heart rate monitor on Apple Watch is, Brad Larson of SonoPlot has crunched the numbers, comparing the extracted raw data against the industry's leading wrist-based heart rate solution, the Mio Alpha. If you didn't have ample faith in that giant module on the underside of Apple's wearable, the numbers might surprise you:
Extracted the raw Apple Watch HealthKit heartrate samples after a run and compared it to an HR monitor I had on: pic.twitter.com/2Ycj49Ctjt

— Brad Larson (@bradlarson) May 7, 2015
At first glance, that looks like a single device readout, but the graph is actually tracking both units across the same workout, and they perform almost identically. Considering that the Mio Alpha in question nets nearly all of the accuracy of traditional chest strap monitors, it seems that Apple's solution is very much the industry-leading one we all hoped it would be. (It does seem to be a little less sensitive when measuring high-level interval training where heart rate changes must be tracked across windows of just a few seconds, but that's neither here nor there for the dramatic majority of users — even serious ones.)
If you're a particularly active Apple fan, this little bombshell gets even better. Tech blog Wareable interviewed Mio CEO Liz Dickinson less than two months ago, presenting her assessment of Apple Watch thus:
Dickinson isn't concerned about the threat of the Apple Watch either. While she admits that the Cupertino company's forthcoming wearable will raise the profile of heart rate monitoring for mainstream consumers, she dismisses the Apple Watch as a serious sports device.

"Apple gave up on continuous heart rate because they would have had to make too many compromises with the design and material selection to be [sic] put accurate heart rate monitoring in," she claims.
In "giving up," Apple made a heart rate monitor that goes toe to toe with the sole feature of Mio's flagship, all while housed inside a device that's capable of thousands of other useful functions to boot.
But since Apple did throw in the towel, maybe Dickinson can use it to wipe the egg off her face.