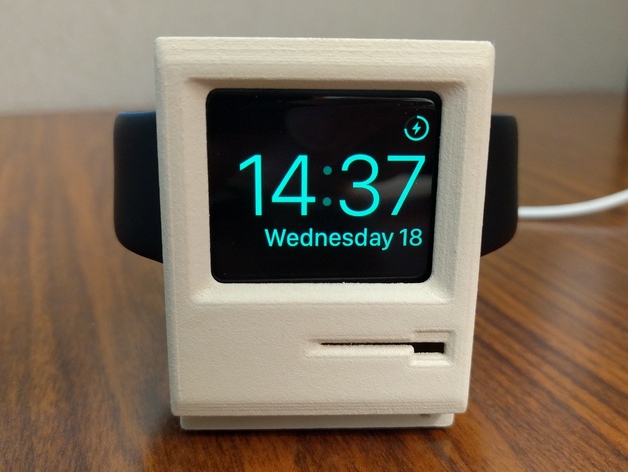 Create
Your
Own
Vintage
Mac
Charging
Stand
for
Apple
Watch
January 11, 2017
This Vintage Mac charging stand has lately been the darling of the tech media world, with its adorable kitschy retro look. It takes skeumorphism to the next level and turns your Apple Watch face into a "vintage Mac."
Now you can print your very own Vintage Mac charging stand. You will need a 3D printer and these instructions from Thingiverse. The downloadable instructions were created by Charles Mangin, known on Thingiverse by the handle option8.
From the summary on Thingiverse: 
This is a two-part charging dock for the Apple Watch. Part 1 (stand) holds the wireless charging puck in place. Part 2 (shell) slides on top, and provides a place to set your Apple Watch. Slots in the sides of the shell hold the watch steady by its band, while the magnetic charger keeps it in place to charge. The screen lines up with the Mac's screen, so you can see the display while the watch is in Night Stand mode.
What a fun and cool DIY project. But what if you don't want to print your own, or you don't have access to a 3D printer? You can still buy it on Amazon, though the price has gone up a little bit since our previous post. It's currently about $19 on Amazon including shipping.