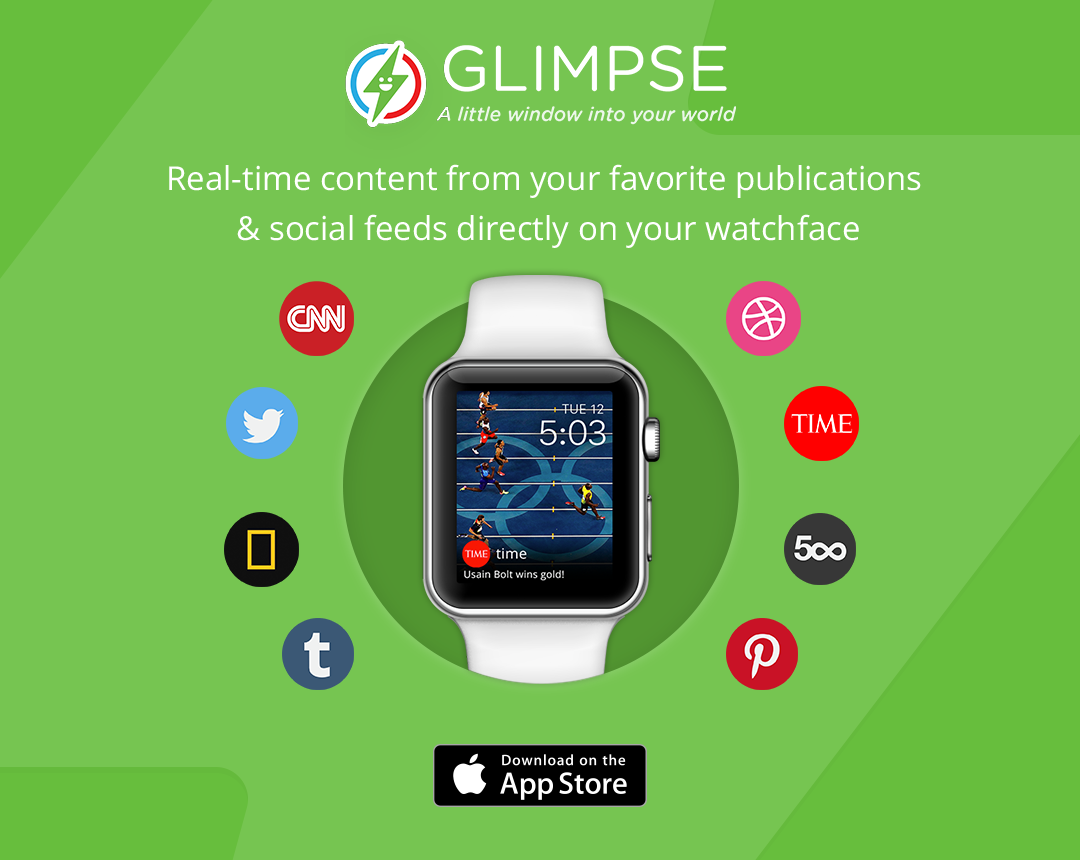 Glimpse
Real-Time
Content
on
your
Apple
Watch
Face
September 28, 2016
From the creator of Facer comes a new app that allows you to keep up with your favorite news and social feeds in a fun and different way. Glimpse Watch Face lets you pick from a variety of sources and brings them straight to your Apple Watch face.
Once you download the app, a Glimpse album will be added to your Photos. You select Photo Album as your watch face and sync the Glimpse album to your watch. Choose your news and social feeds and you're good to go. Every time you flick your wrist, a new photo/story will appear. The app has a helpful tutorial to walk you through each step.
But what if you see a photo or headline come through on your watch face that particularly interests you? You want to know more, see the photo larger, and read the whole story? Glimpse Watch Face has just added very cool feature. Take a screenshot of that interesting watch face, and then when you next open the app on your iPhone, the post will be there waiting for you. Just tap it to be taken to the link directly.
Currently the Glimpse Watch Face app has a number of feeds from which to choose, and more are being added all of the time. You can get feeds from your personal Twitter, Tumblr, and Pinterest, Dribble, and 500px accounts. Get news feeds from National Geographic, Reddit /r/all, ESPN, NPR, NYT, WSJ, CNN, and many more. In fact, they have just added the WatchAware and AppAdvice Instagram feeds.
Glimpse Watch Face is available for free on the App Store. It's a freebie you'll definitely want to check out for yourself.