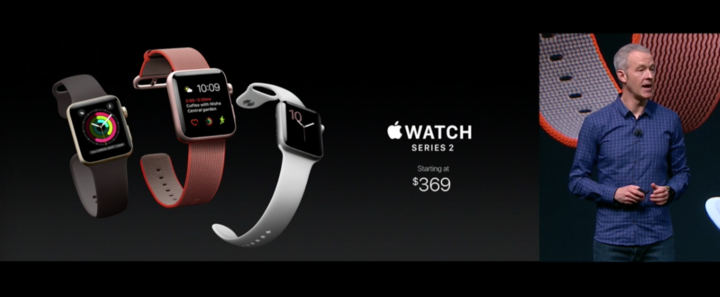 Apple
Watch
Series
2
Announced
at
Apple
Event
September 7, 2016
The Sept. Apple Event is over, and there was a lot to love for fans of the Apple Watch. First of all, the highly anticipated watchOS 3 with its many improvements will be released in less than a week, on Sept. 13.
If you're in the market for a new Apple Watch, you'll be glad to know that there is a brand new model, the Apple Watch Series 2 (not the 'Apple Watch 2′ as we had assumed.) Pricing will start at $369. The original Apple Watch Series 1 watches will be made available with upgraded internals for $269. You will be able to pre-order your new Apple Watch on Sept. 9; it will be available on Sept. 16.
The new Apple Watch will have two features that people had been hoping for: built-in GPS independent from the iPhone and true waterproofing for swimmers.
To summarize the major features of the Apple Watch Series 2:
Dual core
2x brighter display
Water resistant 50 meters
Built-in GPS
watchOS 3
Additionally, there will be a new material option in addition to the stainless steel and aluminum: ceramic. This is the new white ceramic watch is the Apple Watch Edition, and it starts at $1249.
Nike has partnered with Apple to create its own special Nike + version of the Apple Watch, specifically geared towards runners.
Hermès is included in the new Apple Watch Series 2 as well.
There will be new bands coming too.
In what will be the biggest news of all for certain Apple Watch owners, Pokémon Go is coming to the Apple Watch.
We'll have more details for you in the upcoming days.