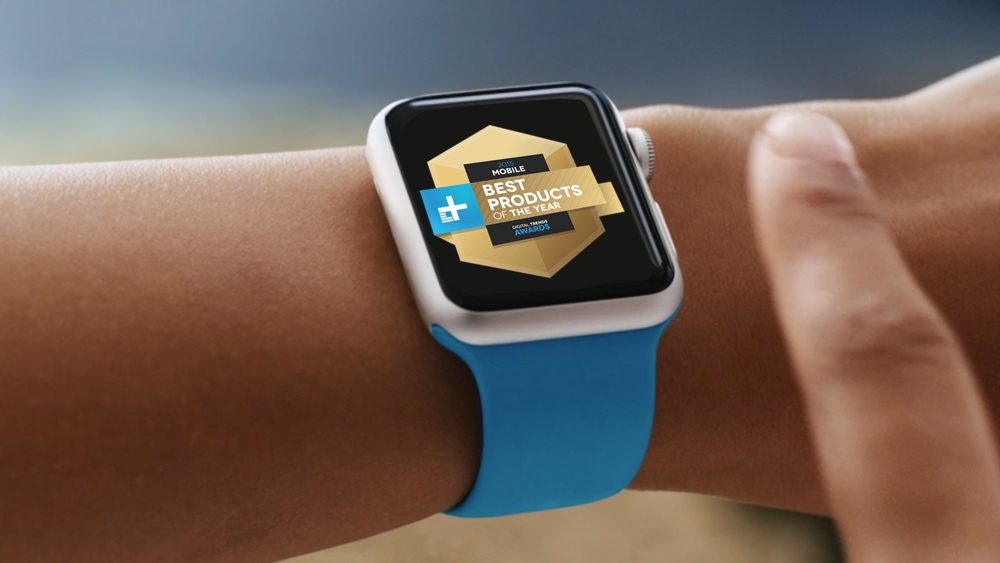 Digital
Trends
Names
Apple
Watch
Best
Mobile
Of
2015
December 23, 2015
Malarie Gokey, Digital Trends:
The Apple Watch is our top pick for the best mobile device of 2015 because it is a true breakthrough product that defined an entire category of devices and set the standard for every other smartwatch made over the course of the year.
It's hard to argue with Digital Trends' pick, given that the mobile space saw little innovation from anyone else this year. However, the inevitability of that top prize (which is likely echoed across most of the mainstream tech outlets) is also somewhat disingenuous. It is, in some ways, a conclusion that shouldn't have necessarily been quite so foregone. Additionally, the premise that Digital Trends presents isn't entirely true. Take this assertion:
Before the Apple Watch, smartwatches were ugly, bulky monstrosities with no style and limited appeal. All that changed the moment Apple CEO Tim Cook announced that he had "one more thing" to show off during the September iPhone event in 2014. It was only a teaser, but it was the defining moment of the wearable category.

From that moment on, Samsung, Huawei, LG, and Motorola got serious about design. They invested in stylish smartwatches with a selection of bands and colors – just like the Apple Watch. Some, like Motorola and Huawei, even offered styles designed to appeal to women. … Apple was the first to recognize the untapped potential of women as smartwatch buyers.
The Moto 360 existed well before Apple Watch was ever announced (it launched in March 2014), and its post-Apple Watch sequel retains largely the same stylish aesthetic (and unstylish flat tire). Samsung, on the other hand, went from square to round in direct opposition to Apple Watch, challenging Cupertino's choice of form factor. The company's new Gear S2 even takes on Apple Watch's UI navigation model with a rotating bezel instead of a spinning crown. Brands like Huawei and smaller upstarts — rather than copying Apple Watch — actually share more design cues with the aforementioned Motorola. And LG's offerings, while large and male-centric, still haven't been influenced by Apple in any meaningful way. Google Wear itself has yet to be updated to make its garish UI any better, not that it's a whole lot worse than Apple Watch's complex array of nonsense and needless steps.
As for bands and straps, Android Wear devices have largely embraced true customizability, allowing users to install whatever bands they want onto traditional wristwatch spring bars. This, ironically, is a far more customer-friendly approach than Apple's Band strategy, and it's something to be lauded. I certainly hope future Android Wear smartwatches dont go the proprietary route with their lugs like Apple has.
Still, it's hard to argue that Apple Watch hasn't made the smartwatch space more relevant, and that's reason enough for most "Best Of" accolades. I won't — and can't — argue that.
But Apple Watch is not my personal pick for the best mobile device of 2015. Right now, it just has too many obvious shortcomings as a true mobile. I would choose it as the best fitness device of the year, but that's about it.
As for the best mobile device, though, I think that ought to go to the iPad Pro/Apple Pencil combo. It improves on the established tablet model in every way, makes the iPad Air seem positively tiny and far less useful than it used to be (much like the iPhone 6 dwarfed — in a good way — the iPhone 5), and will be surprisingly useful for most folks, artists or otherwise. It's got great sound, videos and games look amazing, reading digital books and comics has never been better, and the Apple Pencil sets a new standard in computer drawing and painting. In a battle of accessories, Apple Pencil beats Apple Watch hands-down.
Ultimately, I think Apple Watch will be — to me, at least — a legitimate "Mobile Device of the Year" in a year or two when its deep health capabilities come through. It has tremendous potential, and I recognize that. Similarly, these awards are usually based on future potential and perceived impact, and there is definitely some doubt that Apple Watch will live up to its lofty body-monitoring ideals down the road. Hopefully, with more adoption, faster models, and better apps (and a Faces store, for crying out loud!), the wearable will become the usability hit that its market- and mind-share actually warrant.
I really hope Apple Watch wins Best Mobile Device of 2016.