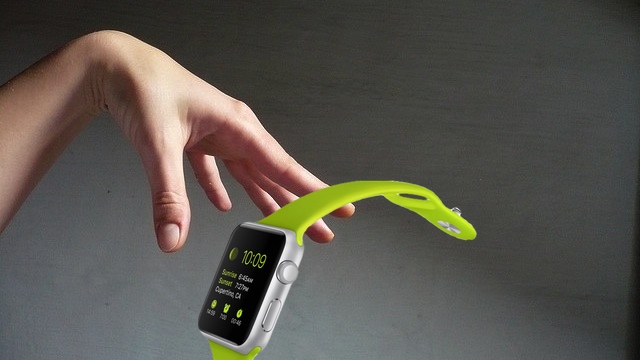 Apple
Watch
Discount:
Good
News
Or
Bad
Omen?
December 10, 2015
As you know, many retailers — most notably Target and Best Buy — are effectively selling Apple Watches for $100 less than their MSRPs. As Apple mandates fixed prices for its wares in partner stores, these discounts are undoubtedly cosigned by (and perhaps even initiated by) the Cupertino company. To some observers, this is a simple, time-tested marketing strategy to get more customers into stores and spending money for the holiday season. To others, it spells trouble for the fledgling wearable going forward.
The Good
The positive spin on this is that Apple is allowing retailers to use its popular Gadget of the Year as bait, a sort of loss leader to promote in-store sales of other holiday items and mobile accessories like Bluetooth headphones, radios, action cameras, and so on. Target is issuing gift cards as the price cut, while Best Buy is simply cutting the actual Apple Watch price itself. In either case, it is entirely possible that the companies are still paying Apple full price for the stock and taking on a sort of subsidy model they predict will gain their stores net positive sales this season.
I buy that.
The Bad
The negative spin on this is that the retail discounts indicate waning interest in a device that was (unrealistically) expected to ship 30-50 million units in 2015. Instead, estimates place YTD sales at around seven million, while year-end estimates peg the total number at around 10-12 million. (Of course, my contention is that Apple never expected to approach the higher double-digits in volume and that Cook et al. are perfectly happy with the quantities moved so far.)
Still, it's difficult to ignore the hit to Apple's image that such a new device — not even through its first consumer cycle — is getting such a large discount for the holiday shopping season where buyers are more likely to spend big for their families, their friends, and themselves. It isn't a stretch to imagine the blemish this paints on the product in the minds of millions of fence-sitters. Nothing kills hype like a sweeping discount on a premium product. Lost cachet is hard to regain. "The Watch is bad, it's not selling, and Apple knows it" would be an understandable and logical reaction.
I buy that, too.
The Both
However, there is a third possibility here, and I think it's the (closest to) correct one: Apple and its partners are, to some degree, experiencing both contingencies. Sales are acceptable but retrospectively lagging from Apple's perspective, and retailers are now overstocked on the stagnant product. Developer support is scant, and in an effort to grow the user base, these sales represent a gambit to make the device more pervasive both in the wild and in the third-party development lab.
The Rest
For me personally, the most curious aspect of this firesale is its timing. Apple Watch 2 has been publicly roadmapped, with a March unveiling and April shipping window. An Apple Watch 1 four months out from a drastically improved version doesn't seem like a very good (or, at least, very lasting) gift, and I'm frankly surprised that the wearable is receiving a yearly update this early in its lifecycle. I know that's Apple's MO, but I figured this thing would be more iPad than iPhone.
Apparently, that's not the case, and for something with such (currently limited) use cases, the focus should be on software iterations with new hardware spread a couple of years apart. Of course, I certainly won't be purchasing a second-generation Apple Watch, so the gift angle might be valid for most users anyways. I dont expect Apple Watch 2 to have the deep health monitoring aspects I so desperately want (and expect) from the platform, so I'll be waiting regardless. And many giftees will likely be in the same boat.
The Reality
Apple Watch isn't going anywhere. It is the smartwatch market leader, and that's not changing, no matter how poorly or well it sells. And for most folks, gen-one ought to be sufficient for several years. If your loved one wants an Apple Watch for Christmas (or your gift-giving holiday of choice), $250-300 for an Apple Watch Sport is a pretty good deal. It's got a great heart rate sensor for workout tracking, it's an adequate notifier and music remote, and it's comfortable and well-made.
My advice, then, is to go ahead and take the discount. While the next model will be out in five months and boast faster guts, the fundamentals shouldn't be different enough to warrant an upgrade. App speed may be improved, but app quality (or the lack thereof) makes that moot for the foreseeable future. Perhaps these sales will get more Apple Watches on more folks' wrists and force developers to take a closer, more serious look at the device. I still believe it's capable of offering great, non-health-related app experiences.
And really, anyone you get one of these for is probably going to be elated, future iterations notwithstanding.
Speaking of future iterations, the next — and bigger — question is this: Will $250 be the new normal for starting MSRPs of new Apple Watches?