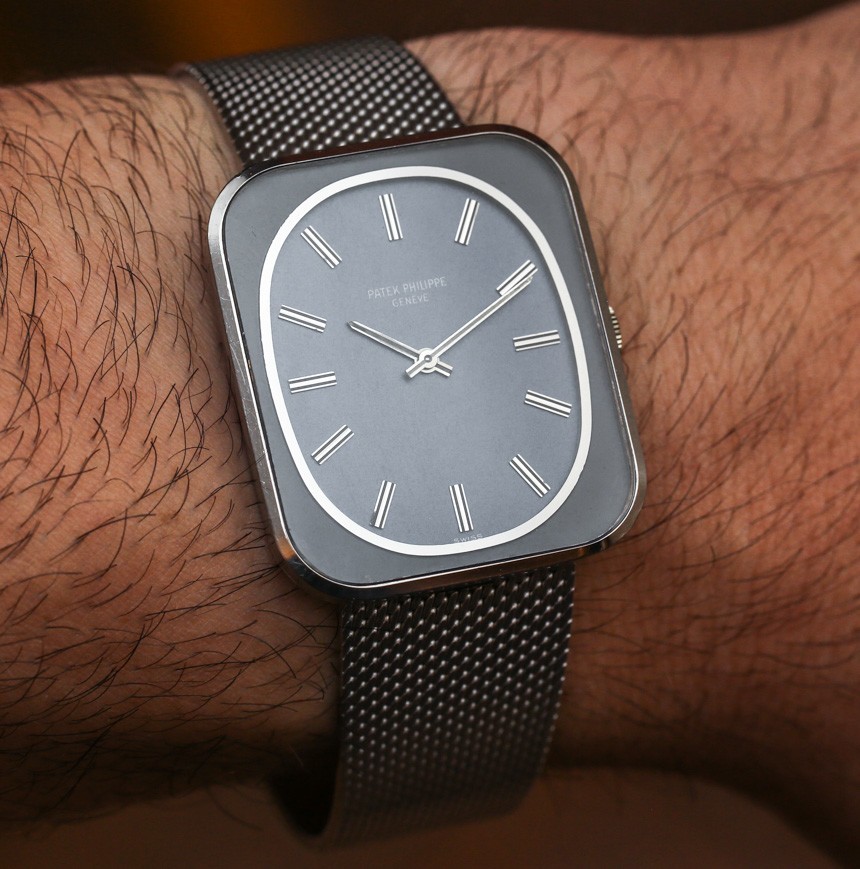 The
Design
Inspiration
For
Apple
Watch
June 27, 2015
Watch enthusiast portal aBlogtoWatch has found what they think marks the primary inspiration for the design of Apple Watch, which is amusing since — on the surface — most of the Apple Watch design doesn't seem particularly inspired. It looks like a tiny iPhone. Of course, the Patek pictured below is something of a dead wringer around the wrist, up to and including the curved bezel glass, hidden strap lugs, and rounded underside:
Also somewhat uniquely, the rectilinear 3582 has the rarer quality of featuring a round (or at least ovular) dial within its boxy frame, which is something that most high-end squared watches don't usually do. And that's something I've always wondered about concerning the 10 stock Apple Watch Faces: Why don't any of them fill out the rectangular display with a proper, traditional, elegant rectangular Face? Another post from aBlogtoWatch, dubbed the Top 10 Living Legend Watches To Own (2013), includes among the classics three squared pieces, and all three extend their dials to the bezel edge all the way around:
So what gives? The easy answer is Complications — Apple needs the corners of the display to be unobstructed so they can pack as much extra stuff on-screen as possible. That's fair, but it's also kind of weak, as there's always room inside the dial for whatever small modules of data Apple (or the user) would wish to include. Plus, certain stock Faces already do this, anyways.
Another answer, perhaps just as easy, is Marc Newson. Here's an Ikepod design of his (called "Manatee") that, like the Patek, closely resembles Apple Watch:
In either case, I assume that Apple will be releasing a new batch of official Faces come watchOS 2, and I fully expect it to include a couple of bona fide rectangle dials that make full use of Apple Watch's awesome display, regardless of the brand's seeming disdain for square-on-square.
[Image via aBlogtoWatch]