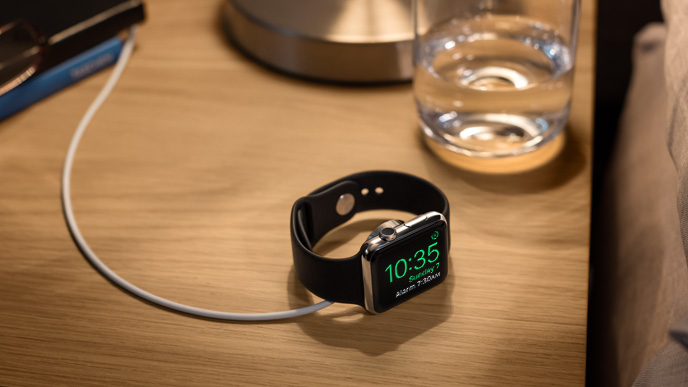 Everything
Apple
Announced
At
WWDC
Related
to
Apple
Watch
June 8, 2015
At the 2015 World Wide Developers Conference, Apple spend a full two hours discussing and demonstrating OS X El Capitan, iOS 9 and what Apple is calling watchOS — Apple's native operating system for the Apple Watch. Since we're mostly interested in Apple Watch, here are the most interesting developments to come out of today's announcements in case you weren't fortunate enough to spend most of the afternoon glued to your screen. Enjoy!
Native Apps: Apple Watch apps will now have a ton more capability with watchOS 2. Apps will now be able to take advantage of features such as the Taptic Engine, accelerometer, heart rate sensor, speaker, mic, and even the Digital Crown. This will mean that so many of the apps that you enjoy today will run faster and will have direct access to the best sensors and functions of Apple Watch.
New Faces: Apple is adding new watch faces in watchOS 2 including the ability to choose a photo or a photo album as a watch face. With photo albums, each time you raise you wrist, you'll see a different photo from that spefic album.
Third-party Complications: Apple is now allowing app developers to build their own third-party complications that can be used on a wide array of watch faces that Apple offers. Things such as flight times, sport scores, and more will now be accessible with just the raise of your wrist.
Time Travel: Apple will allow you to use the Digital Crown to fast forward through time to see updated events. For example, say it's 10AM and you have a variety of meeting sat 12PM and 3PM. From the Watch face, you can you can turn the digital crown to fast forward through time to see what your next event is. You can do all this without having to enter the calendar app. A press of the Digital Crown gets you back to the current time.
Night Mode: Lay the Apple Watch on its side and it will display the time horizontally for those who like to use it as an alarm. Since the Watch has an accelerometer, it changes the functions of the buttons when it's laid down making Digital Crown the snooze button and the side button the button to turn it off. Sweet.
Communication: You'll be able to set various groups of friends to connect to since many people may have more than 12 friends. You'll also be able to draw in multiple colors when you sketch.
Reply to emails: You'll be be able to reply to email right form your Apple Watch. This was not previously available on watchOS 1.
Apple Wallet: Apple has renamed Passport to Apple Wallet which now supports in-store credit cards and rewards cards. That function is also coming to Apple Watch.
Siri for workouts: Raise your wrist and say "Hey Siri, start a 30 minute run in the park" and the Watch will automatically pick the right workout and get you started.
Transit: Apple will support Transit maps found in iOS 9 right on the Watch itself and will prompt you when to leave.
HealthKit: You'll abe able to access various Health functions right on the Watch itself. For example, if you're using an app like Strava for working out, you can see your heart rate in real-time. Previously, you'd need to open the Heart Rate glance and wait about 5 second or so. Now if you care about up-to-the-second data, you can have it.
Availability: Developer Beta is available today and watchOS 2 is expected to hit all Watches this fall.
Learn more by visiting Apple's dedicated watchOS 2 page.