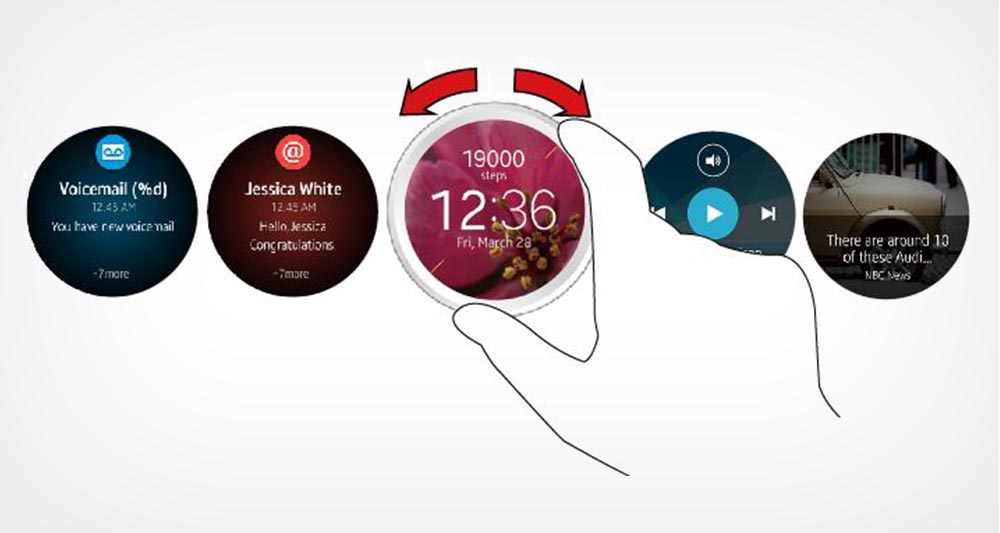 Samsung's
Round
Smartwatch
Will
Likely
Have
A
Rotating
Bezel
May 12, 2015
SamMobile has unearthed what appears to be more information regarding Samsung's upcoming round smartwatch. According to the Samsung-released documentation, the company's next-generation smartwatch will use a Tizen-based UI alongside what appears to be a rotating bezel for navigating through the watch.
According to the documents, the watch will feature a 1.65-inch circular display with a resolution of 360 x 360. As a comparison, the 42mm Apple Watch features a resolution of 312 x 390, while the LG G Watch R has a resolution of 320 x 320. In terms of pixel density, that puts the next "Gear" at around 303 PPI, or roughly one pixel more than the current 42mm Apple Watch. The device will also feature an array of sensors, including a heart rate monitor, accelerometer, gyrosensor, pressure sensor, and more. As for connectivity, you can expect WiFi, GPS, and — in at least some models — a cellular radio. It was rumored before that this watch would be able to make calls, so the cellular radio seems to confirm that.
Where it gets really interesting is in the user interface. According to the documents, the watch will rely on swipes and touches, but it will also feature a new input method based on a rotating bezel that controls functions and navigates between screens. For example, the rotating bezel can be used to scroll through a list as well as zoom into a photo or change the volume, depending on context. Clearly, this appears to be Samsung's way of using hardware to avoid having to touch the screen too much. I wonder where they got that idea? And I wonder why they made it so convoluted and counterintuitive.
It's also interesting to see Samsung doubling down on the round smartwatch. My biggest problem with round smartwatches, as is evident in these documents, is that the UI can only be constrained so much to a round display. As you can see from the list view for example, items get cut off. On a device with a rectangular screen like Apple Watch, this isn't be a problem. Round smartwatch displays end up wasting a lot of their screen space, and outside of presenting a traditional dial metaphor for timekeeping, there's no reason for these products to keep going around in circles.
Still, it's interesting to see this product category get more attention as the months roll by. The battle for the wrist is on.