App in the Air - Flight Tracker and Airport Guide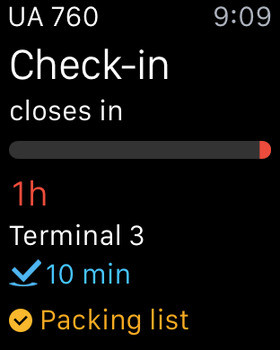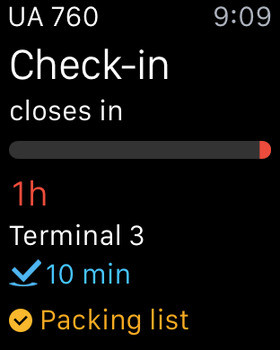 The Revolver
App in the Air - Flight Tracker and Airport Guide
App in the Air - Flight Tracker and Airport Guide
Dismiss
10:47
The Revolver
App in the Air - Flight Tracker and Airport Guide
App in the Air - Flight Tracker and Airport Guide
Dismiss
10:47
Get App
App in the Air - Flight Tracker and Airport Guide
App in the Air - your personal flying assistant that keeps you up-to-date with your flight: real time status, airport tips and in-airport navigation maps, flight profile with all your flights logged. Even more: app works offline (gate changes and flight status updates are delivered via SMS which requires no data roaming).Apple Watch support: track your current flight, stay healthy by taking in-flight courses, get time to gate and security wait times, explore the landmarks you're flying over. Apple Watch revolutionary Glances and Force Touch make the app experience even better!--Try it now: Get Premium feature (flight status notifications without Internet) for any flight absolutely free--The best coverage worldwide that includes:- North American Airlines: American, Delta, United, Southwest, Air Canada, JetBlue, Alaska, WestJet, Aeromexico, Spirit & much more- Over 1000 airlines worlwide: KLM, Ryanair, China Eastern, Lufthansa, LATAM, China Southern, easyJet, Singapore, British Airways and others- All major US airports: Hartsfield-Jackson, Los Angeles (LAX), O'Hare, Dallas/Fort Worth (DFW), Denver International, JFK, SFO, Charlotte and much more- Busiest world airports - over 5000: Heathrow, Beijing, Haneda, Dubai, Paris-Charles de Gaulle, Hong Kong, Frankfurt, Istanbul, Soekarno-Hatta and others- All alliances: Skyteam, Star Alliance, OneworldKnow everything about your flight:- Dont miss your flight - we will remind you about any flight status changes of upcoming flight even without Internet!- Manage your time at airport - each flight has been broken into 4 stages: checkin/boarding/takeoff/landing time- Care about relatives? You can track their flight too. Be prepared in advance:- Take a chance to get best seat in plane - reminders about opening online checkin straight from the app.- Find places to eat, internet password and much more in advice - advices from other travels, handy tips and what to expect at the 9 000 different airports.- Dont know how to get to the city? We have quick links to book a cab (more than 200 cities worldwide) or express train (Moscow for now)Remember all your flight history:- TripIt integration allow you to import all your flights- Add your past flights to fulfil your map by hand or forward us e-ticket to
[email protected]
- Count miles, hours youve flown and airports, airline & aircrafts youve visitedMoreover:- Have an issue with the app? - we have support via email or online chat (in the app)- Miss some airports / airlines / features? - we listen to our users and release new updates every 2-3 weeks.Try it now: get Premium feature (flight status notifications without Internet) for any one flight absolutely free.Have questions? Feel free to write anytime on
[email protected]
Features
Glance
Glance keeps you up to date with your current flight-related stage. Additional info follows your context: terminal, gate, baggage belt.
Watch App
App lets you check all four stages of your flight: Check-in, Boarding, Take-Off, Landing.
Notification
On a long-haul flight you'll get notified to stretch. It's vital to do exercise in order to fight fatigue.
Developer
App in the Air
App in the Air - your personal flying assistant that keeps you up-to-date with your flight: real time status, airport tips and in-airport navigation maps, flight profile with all your flights logged. Even more: app works offline (gate changes and flight status updates are delivered via SMS which requires no data roaming). On your Apple Watch you can track current flight, stay healthy by taking in-flight courses, get time to gate and security wait times, explore the landmarks you're flying over. Apple Watch revolutionary Glances and Force Touch make the app experience even better!