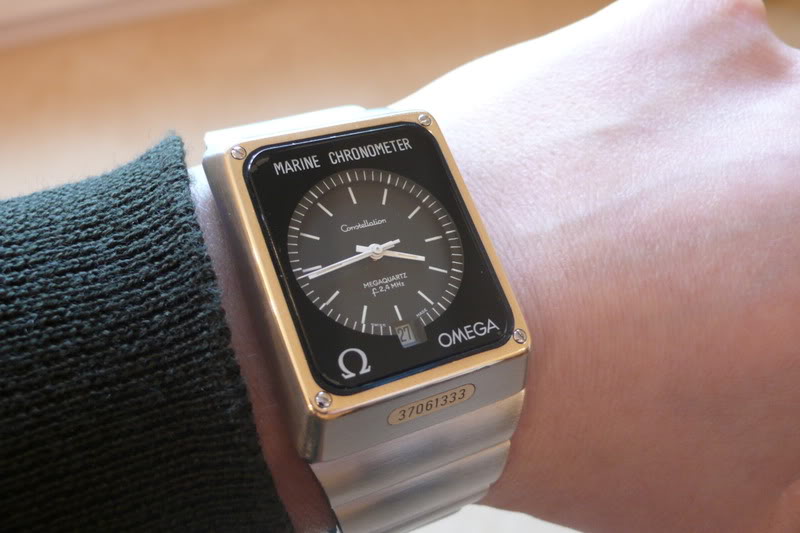 Apple
Watch
Could
Offer
Fun,
Profitable
Market
For
Lux
Watchmakers
February 26, 2015
You're looking at the Omega Marine Chronometer, the first certified such device in watchmaking history. Beautiful, isn't it? These were produced by Omega between 1974 and 1978, and their so-called "superquartz" movements made them one of the most accurate timepieces ever. Of course, with the advent of digital world-time watches and atomic-synching cellular radios, this sort of accuracy is no big deal any more. Surely, at a loss of one whole second a month, the old Omega can't compete with Apple Watch, which Cupertino claims to be one of — if not the — most accurate timepiece of all time(pieces):
High-quality watches have long been defined by their ability to keep unfailingly accurate time, and Apple Watch is no exception. It uses multiple technologies in conjunction with your iPhone to keep time within 50 milliseconds of the definitive global time standard.
But the Marine Chronometer's timekeeping prowess isn't what caught my eye when I came across Archie Luxury's video (NSFW due to massive amounts of angry Australian swearing) last night. Instead, it was the Omega's striking design that stood out so clearly. To me, it looks an awful lot like Apple Watch, and it immediately reminded me of one of the things I'm most looking forward to with Cook and company's new wearable: Faces.
Consider: These items exist. Several years ago, the technology was just barely there for some small Swiss company to put out a massively overpriced "luxury digital" (or digital luxury?) wristwatch predicated solely on the idea of customizable computerized watch faces. And the thing sells, even as it drops the ball in the presentation and elegance departments with that crummy LCD panel:
Now, consider this:
As it stands today, Apple does not allow third-party developers to create Faces for Apple Watch. However, that seems almost certain to change, as the potential for Apple Watch to offer not only wholly new designs but virtual versions of famous watch faces and iconic movements is enormous. The only downside is that, to get the established luxury market's many makers on board, Apple would have to let them price their wares accordingly — and price them they most certainly will. Of course, Apple will also have to curate out the knockoffs lest said makers bail or sue. In the case of aforementioned Omega (which isn't made anymore), perhaps its virtual Marine Chronometer Face wouldn't cost too much. It might be $10. Or maybe $50. In either case, it would sell, and not only to those buyers realistically considering a $10,000+ Apple Watch Edition. Modern, skeletonized Faces emulating the likes of this Calatrava or this Royal Oak might cost a lot more, but regardless of price, the manufacturers could certainly use Apple Watch to extract a little revenue out from under all the perceived risk their newfound competitor represents. What better way for haute — but broke — horology enthusiasts to simulate a collection of cool watches on the relative cheap? And what better way for a wealthy collector to "sample" the look of the items they're considering? As a marketing tool alone, Apple Watch could be a very compelling platform for Swiss watchmakers.
Heck, I'd give Cathode Corner $20 for Woz's Nixie Watch Face. Wouldn't you?