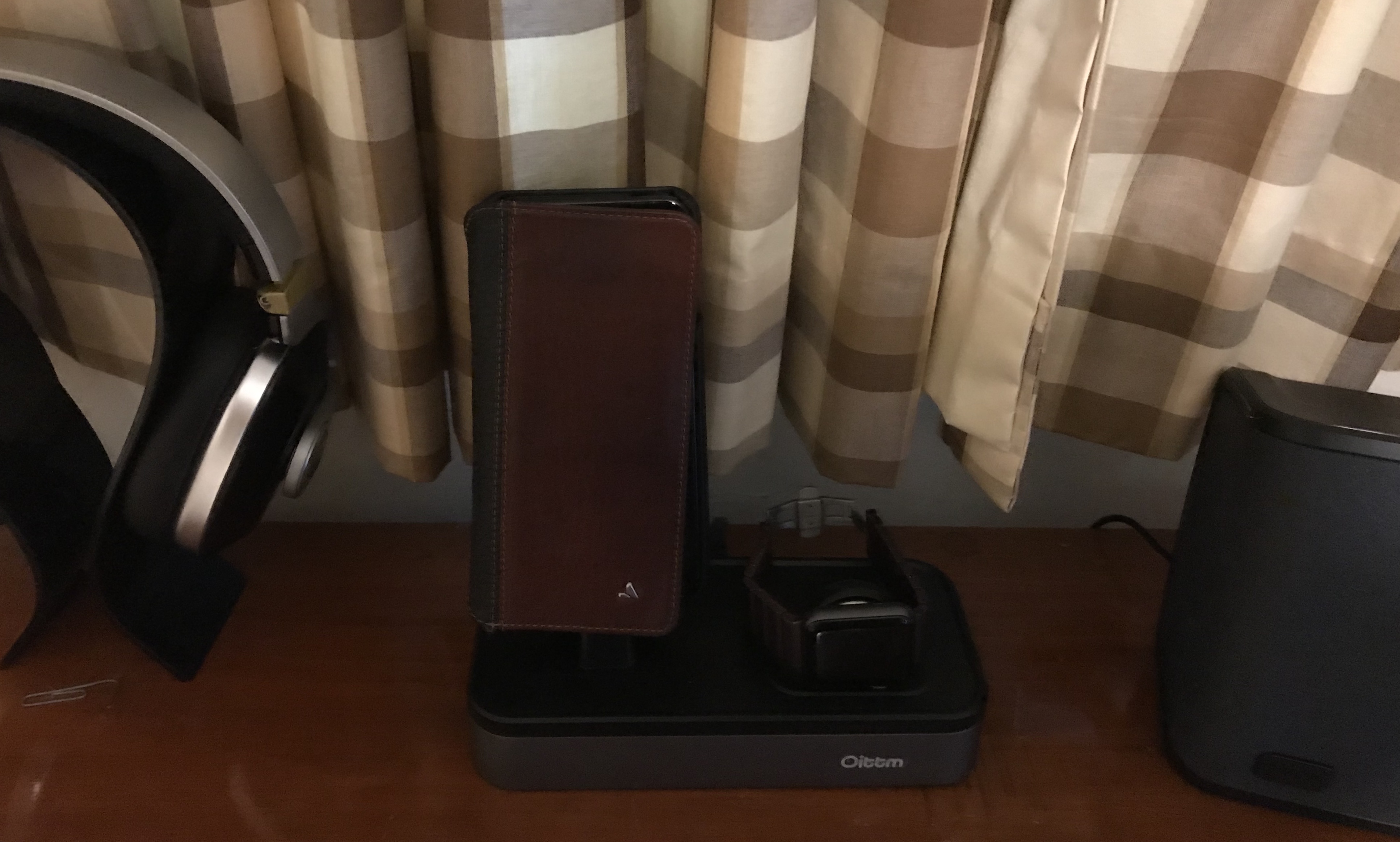 Oittm
Apple
Watch
and
iPhone
Stand
Offers
Power
and
Flexibility
August 30, 2017
I'll freely admit, I probably have too many gadgets. Trying to charge everything at once becomes a serious enough challenge that I've thought about getting one of those laptop carts used in schools to charge all of my electronics. Well, not really, but it's getting close to that point. When I first saw the Oittm Apple Watch and iPhone Stand, from the front, I wasn't terribly impressed. Once I got to know it a bit better, though, I really came to appreciate it. I think you will, too.
An Unassuming Little Apple Watch and iPhone Stand
From the front, this stand looks like it will only charge your iPhone and your Apple Watch. Even in that, though, I would have been impressed by the fact that the stand for the iPhone features an adjustable backplate. That means you can use the stand with whatever case you might desire. There's plenty of room for adjustment, so you don't have to strip your iPhone down to fit it on the stand.
The Apple Watch nestles in place oriented perfectly for Nightstand Mode, which is nice. The only real drawback is that you have to provide your own magnetic charger, but we've all got at least one of those, right? What's truly nice about this stand is that it provides a cavity beneath your Apple Watch for cable storage, so you don't have your iPhone and Apple Watch charging cables tangled up behind or around the stand.
It Gets Even Better
What really impressed me, though, was when I saw the back of the Oittm Apple Watch and iPhone Stand. Not only does this accessory charge your iPhone and wearable device, but it also provides a total of three USB ports for charging other gadgets. I use one to charge my iPad Pro when it needs it, one to keep power flowing to my Arduino temperature sensor, and have one to spare if a guest needs to charge up.
The only problem I thought I would have with this stand is its weight. It's very light, and I feared removing my iOS device from the stand would just result in picking the whole thing up. I've had that happen with other stands, but Oittm seems to have found the "sweet spot" with the weight. It stays safely in place when I remove my device.
Pros and Cons
Obviously, this can't be a perfect option for everyone. It works fabulously for me, but there are some caveats. With that in mind, here are the pros and cons I see with this stand.
Pros
Fits my iPhone 7 Plus wonderfully, even in its case
Supports the Apple Watch oriented for Nightstand Mode
Offers three one-amp charging ports for other USB devices
Cons
Does not provide enough space to simultaneously charge an iPad Air or larger with your Apple Watch
Doesn't include charging cable for iPhone or Apple Watch
Third-party Lightning cables might not fit properly with the stand
The Oittm iPhone and Apple Watch Stand is available in three colors: space grey, silver, and rose gold. You can order yours directly from Oittm, or from Amazon.