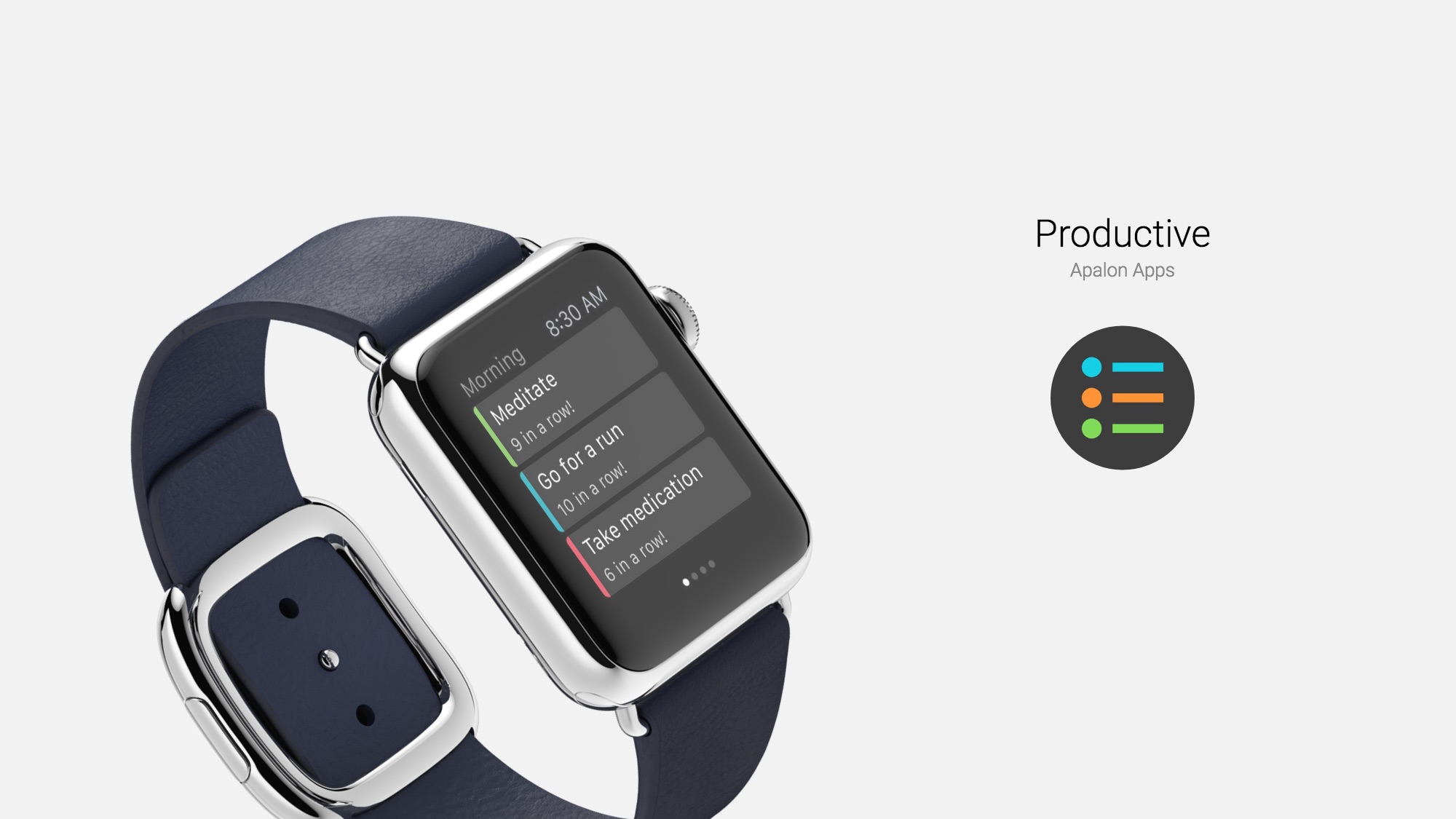 Build
Better
Habits
With
Productive
and
Your
Apple
Watch
July 24, 2017
We all have habits we should be working on, but changing our lifestyle sometimes seems too daunting. When you can focus on just one day at a time, or even just part of the day, it gets easier. With the Productive app on your Apple Watch, you'll find it simple to build better habits, one at a time.
Build Your New Habit List on Your iPhone
You start out from your iPhone, building the list of things you want to work on. For the free version of the app, you can focus on up to five habits. You set these to be done daily, or on particular days. You can tell the app you're going to do them at a particular time of day, or anytime.
Once that's done, the app focuses on what time of day it is. That way, you aren't overwhelmed with all of the habit-building activities you say you should do throughout the day. You can focus just on the things that you need to do during the morning, afternoon, or evening.
Let Productive and Your Apple Watch Help You Build Better Habits
Once you've set up your day, you can let Productive and your Apple Watch guide you to better habits. The app, once installed on your Watch, will give you reminders when it's time to do something. Mark it as done, or skip it – although the app tells you that skipping that habit too many times will keep you from making it a natural part of your day.
Productive also gives you an overview of what things you need to do that time of day. Swiping through the app's screens, you can also check up on how you've done the rest of the day and what's left to do.
Perhaps Not the Best Name for the App, but Fitting Nonetheless
When I first stumbled across Productive, I thought it was going to be a Getting Things Done app. When I read the app description, I was surprised that this particular title doesn't focus so much on making your day more productive as I thought. Instead, it's aimed at helping to guide you to better habits.
These new habits could be productivity-related, but they can also be just about anything you want them to be. You be the judge what you want to work on. Perhaps you want to improve your health and fitness, or maybe you want to be more social or efficient. This app and your Apple Watch will help you build better habits, and perhaps become a better person in the process.
Build Better Habits With Productive on Your Apple Watch
If you're ready to start to build better habits, you should download Productive on the App Store. It's a free app, with an in-app purchase to focus on more than five habits and get more great features.