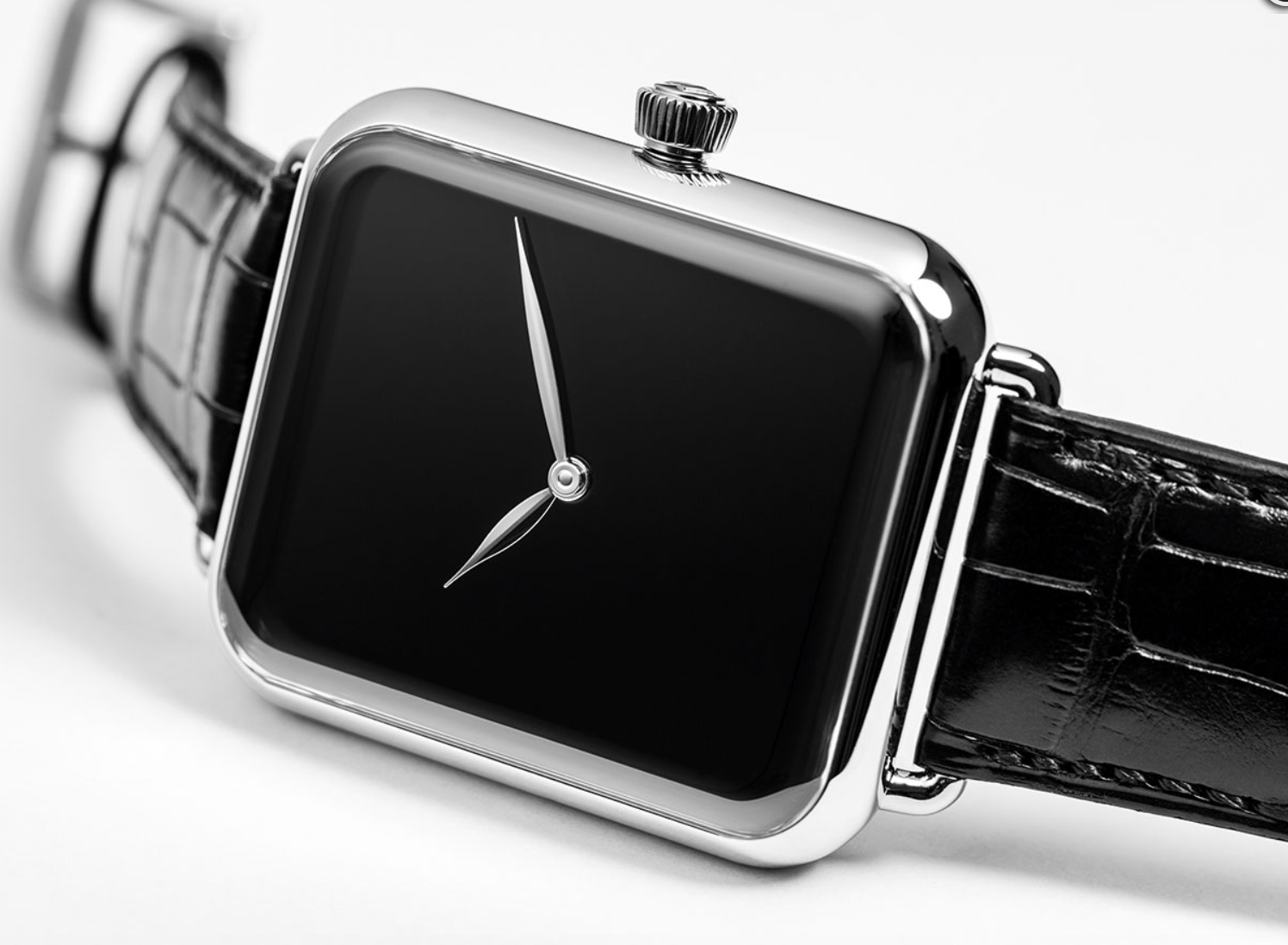 Swiss
Alp
Watch
Zzzz
Resembles
Apple
Watch
at
First
Glance
May 28, 2017
This limited edition Swiss Alp Watch Zzzz from Swiss watchmaker H. Moser & Cie. looks like an Apple Watch, but it's actually a high-end mechanical watch with a high-end price tag. H. Moser & Cie. is a Swiss, family-owned watch company that builds and finishes each watch by hand.
I'm not sure who the target market is for this watch. For me, the look of the Apple Watch wasn't what drew me in. In fact, the big, rectangular face put me off at first. It was the functionality that won me over. Before the Apple Watch, I wore a middle-priced analog watch with a tiny, round face. So the idea of wearing a watch that looks like an Apple Watch but doesn't have any function besides telling time is hard for me to understand. I guess the popularity of the Apple Watch has actually transformed fashion sensibility.
According to the company website, the resemblance to our favorite smartwatch is intentional:
A watch with a rectangular case, with rounded corners, featuring a glossy black dial. At first glance, it could be mistaken for a smartwatch on standby. But look a little closer, and it reveals itself to be a living watch, with a heart and soul: the Swiss Alp Watch Zzzz from H. Moser & Cie. 100% mechanical. 100% Swiss. In this watch, the now iconic model features neither indices nor logo on its dial, proving that true luxury is unmistakable, and immediately identifiable, even without obvious marketing.
The Swiss watchmakers seem to be taking a little jab at Apple. And yet, they were clearly inspired by the Apple Watch design. Imitation is the sincerest form of flattery, after all.
H. Moser & Cie. is making just 20 of these Swiss Alp Watch Zzzz watches with the black face, plus 20 with a "striking and radiant Funky Blue dial." The back of both models gives you a window into the watch's mechanics. Either watch will run you $26,900.
What, the Swiss Alp Watch Zzzz isn't luxurious enough for you? Check out the completely diamond- and sapphire-encrusted Swiss Alp Watch on the Rocks. Yup, those are real.
Learn more about these watches on H. Moser & Cie.'s website.