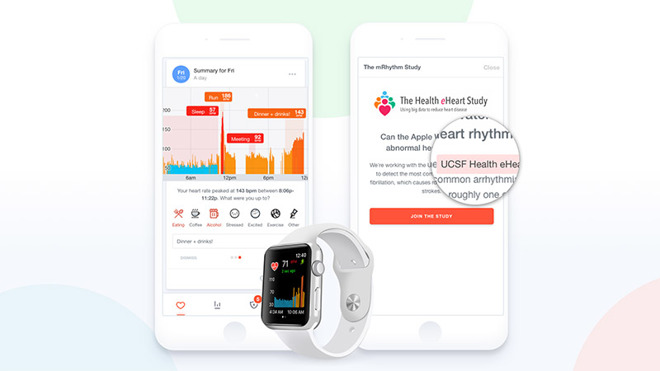 Study
Shows
Apple
Watch
Detects
Serious
Heart
Condition
With
97
Percent
Accuracy
May 12, 2017
According to a report from AppleInsider, a study from the University of California San Francisco with Apple Watch app Cardiogram indicates that the Apple Watch's heart sensors can detect atrial fibrillation with 97 percent accuracy. Atrial fibrillation is a common heart arrhythmia that can lead to a stroke. These findings were presented at the Heart Rhythm Society's Heart Rhythm 2017 conference on Thursday.
From AppleInsider:
Researchers collected data — 139 million heart rate measurements and 6,338 mobile ECGs — from 6,158 Cardiogram app users enrolled with the UCSF Health eHeart Study.

Explaining the process to AppleInsider, Cardiogram cofounder Brandon Ballinger said about 200 participants with diagnosed paroxysmal atrial fibrillation took part in the study. These patients were provided a mobile electrocardiogram and tasked with taking one reading per day, or when they felt an onset of symptoms ranging from lightheadedness to heart pains.
Further,
"Our results show that common wearable trackers like smartwatches present a novel opportunity to monitor, capture and prompt medical therapy for atrial fibrillation without any active effort from patients," said the report's senior author Gregory M. Marcus, MD, MAS Endowed Professor of Atrial Fibrillation Research and Director of Clinical Research for the Division of Cardiology at UCSF. "While mobile technology screening won't replace more conventional monitoring methods, it has the potential to successfully screen those at an increased risk and lower the number of undiagnosed cases of AF."
This is the kind of medical advance I've been hoping to see ever since the March 2015 keynote speech when Apple discussed the Apple Watch's potential in this arena. I know that scientific studies take time, but I hope that more are in the works. I find it interesting that since that keynote two years ago, Apple Watch marketing has taken a different turn, to focus on fitness rather than medical monitoring and diagnoses. Sure, the Apple Watch is a great fitness band, but it's so much more than that. I hope that medical researchers continue to work on using the Apple Watch to help diagnose and treat medical conditions, and that we'll be seeing many more studies like this in the future.
You can read AppleInsider's entire report here. Photo credit: AppleInsider