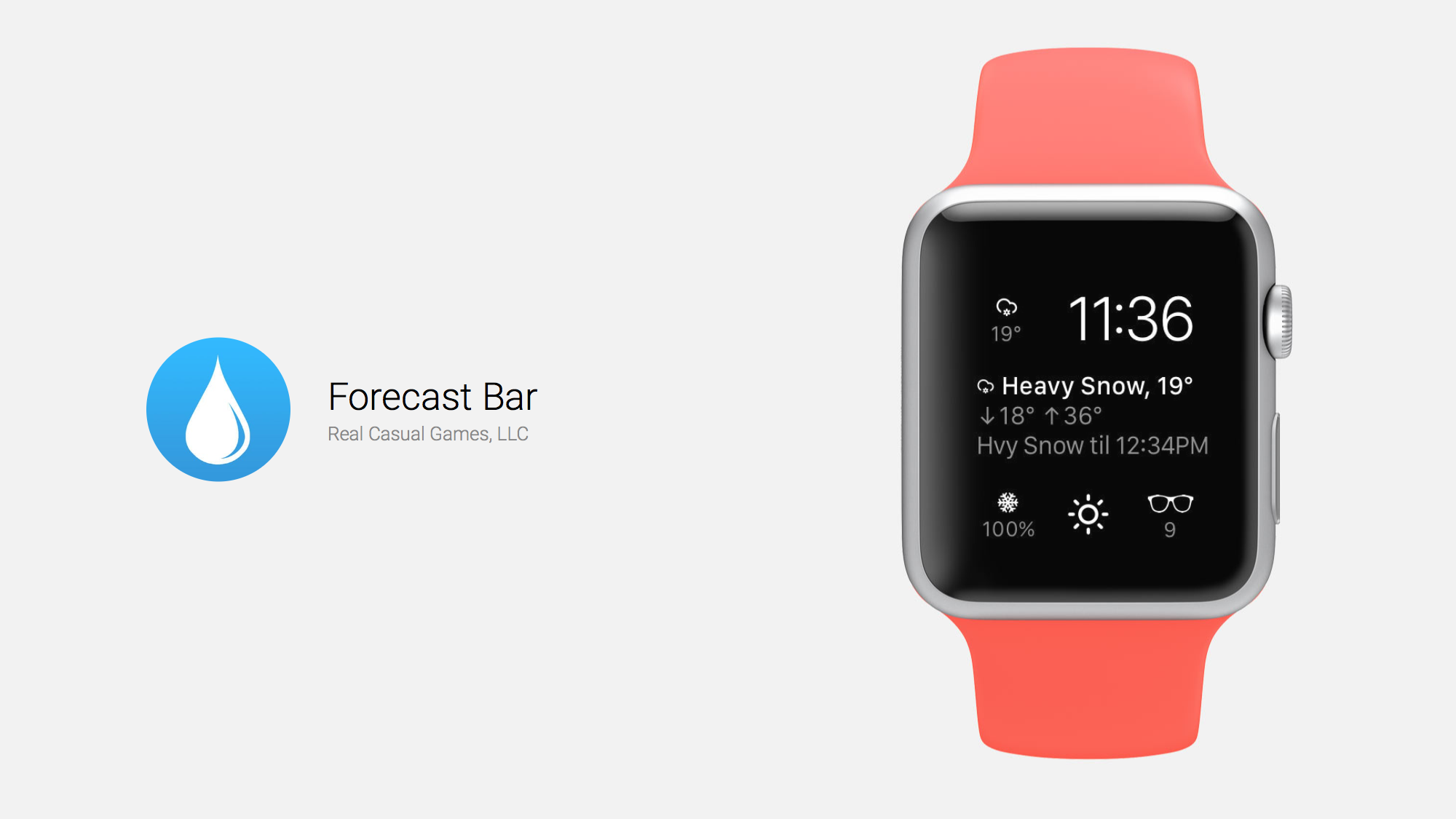 Forecast
Bar
is
a
Fantastic
Weather
App
for
Apple
Watch
April 25, 2017
Forecast Bar has everything you could want in a weather app on your Apple Watch. It's accurate, as it's powered by one of our favorites, Dark Sky. Forecast Bar has great customizable complications, and it's free to download. There is a catch, however:
Your free download includes one week of premium weather updates. Afterwards, you will need to subscribe to continue making full use of Forecast Bar, or continue with limited functionality and ad-supported.

Forecast Bar for iOS uses auto-renewing subscriptions. Subscriptions are valid for 1 year from date of purchase, and will automatically renew unless auto-renew is turned off at least 24-hours before the end of the current period. A standard subscription is $2.99USD and provides full access to the iOS app. A premium subscription is also available for $4.99USD which provides background updates for Apple Watch with watchOS 3.
I've used Forecast Bar with the free trial subscription for a week and found it to be delightful. On the both the iPhone and the Apple Watch it's amazing, with more information and customizability than you can imagine. Every line of the large center Modular complication can be customized to show the information you want. Each of the smaller complications can be customized as well. Forecast Bar is one of the most detailed apps I've ever seen on the Apple Watch, including highly detailed hourly and daily forecasts plus radar.
But what happens when the trial subscription runs out, if you don't renew it? The good news: the small banner ad placed in the iPhone app isn't terribly intrusive. The bad news: the app is so slow to open on the Apple Watch now that it's hardly worth using at all. The loading screen stays forever, longer than the Apple Watch screen stays on. Even force pressing and tapping Refresh doesn't help. Maybe it's just a bug, or maybe that's how the app works without the paid subscription. I cannot recommend the free version of Forecast Bar; but with the paid subscription it's pretty great. If you're looking for a new weather app, definitely checkout Forecast Bar's free trial and see for yourself if it's something you'd find worth paying for. We are talking about the price of one cup of coffee per year, not a huge investment.
Forecast Bar is free on the App Store. After the free trial subscription, premium weather updates will cost $2.99/year or $4.99/year for Apple Watch users to get background updates.