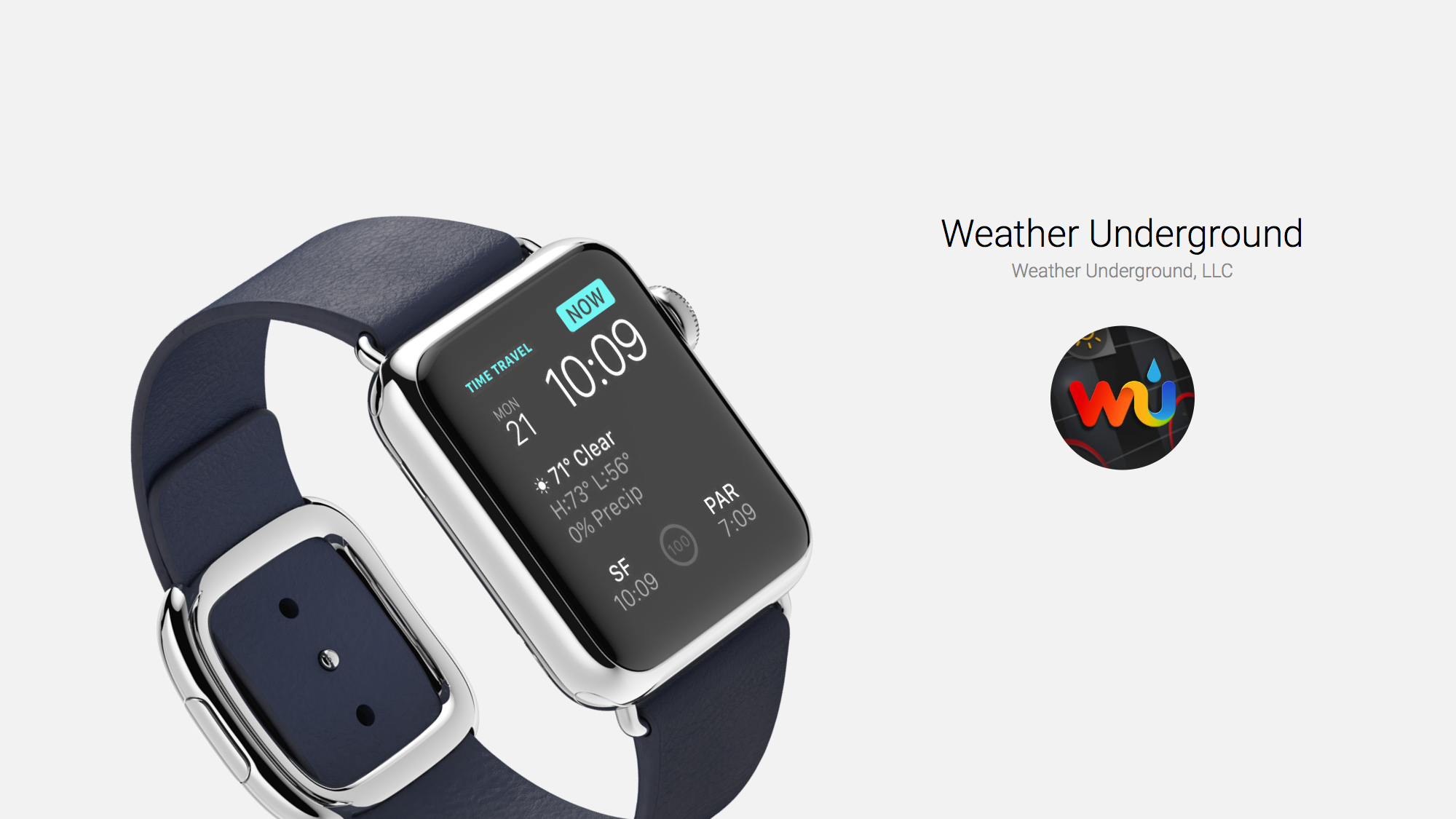 Weather
Underground:
Great
Free
Weather
App
and
Complication
April 3, 2017
Weather Underground offers what you need in a weather app for Apple Watch: great complication, hourly and 10-day forecasts, radar, and more. Best of all, it's free.
First you'll need to open the app on your iPhone to set up the watch complication. You'll just need to choose whether you want the Apple Watch complication to use your current location or your last viewed. Weather Underground is ad-supported, so you'll see ads in the iPhone app, but you can remove those with an in-app purchase. There are no ads on the Apple Watch, however, so there is no need to upgrade if you'll mostly be using the app on your watch.
The complication on the Apple Watch is informative. The small, circular complication shows current temperature along with an icon showing the conditions. The one-line complication, such as on the Mickey and Utility faces, packs a lot of information in a small space. It shows an icon for current conditions, current temperature, and today's predicted high and low temperatures. The large complication on the Modular face shows all of the information in the one-line complication, plus the current conditions spelled out in words and the chance of precipitation today.
Open up Weather Underground on your Apple Watch for even more information. First you'll see a summary of the current conditions, temperature, and high/low forecast. Scroll down for a graph showing predicted temperatures for the next 24 hours. Keep scrolling for a written out prediction of upcoming weather, which you can tap for more details. Scroll again for a radar map. Scroll to the bottom for two buttons you can tap, one for the hourly forecast, and one for the 10-day forecast.
As with many weather apps, if you are using a Weather Underground complication, you can Time Travel by scrolling the Digital Crown. This is a quick way to see the weather forecast for anytime in the future, up to 38.5 hours from the current time.
Weather Underground covers all the basics in a single, free app. It's definitely worth checking out, as it is free on the App Store.