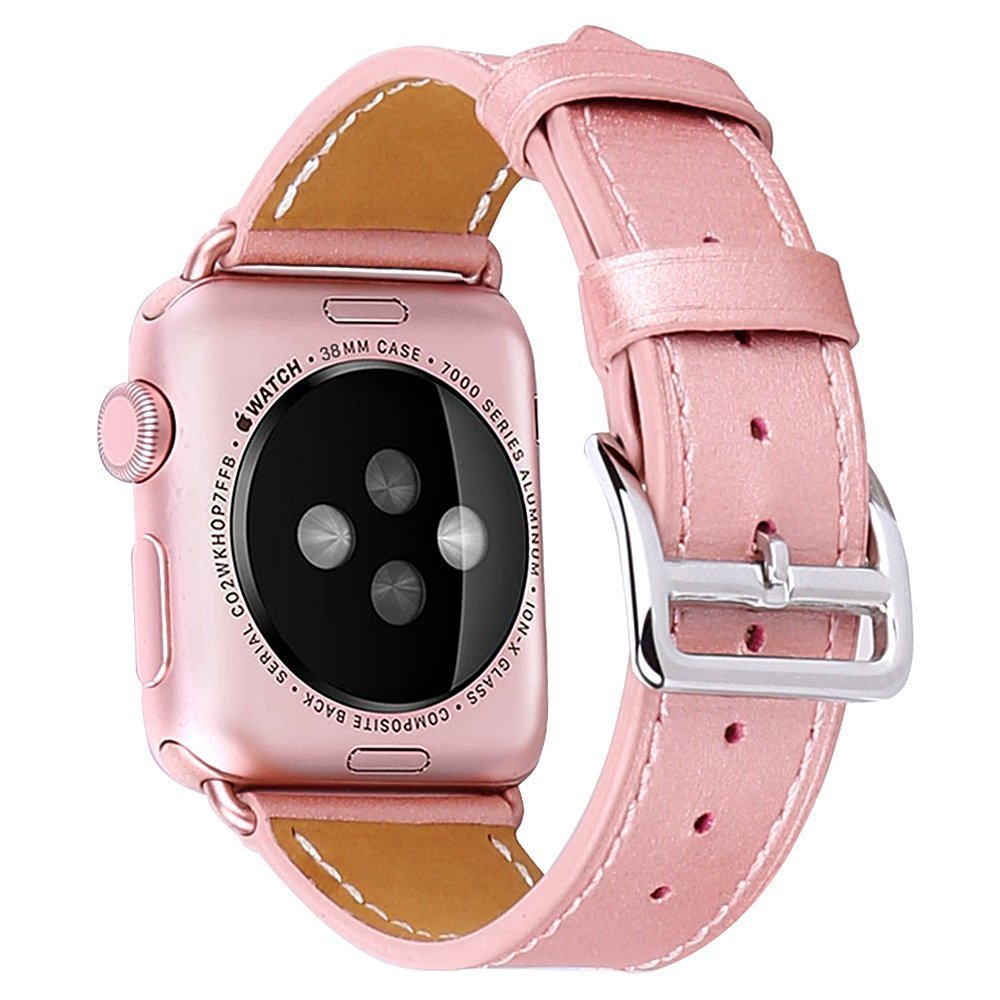 Marge
Plus
Rose
Gold
or
Brown
Genuine
Leather
Band
Under
$10
March 14, 2017
I received a 38mm genuine leather Apple Watch band from Marge Plus in the color Rose Gold for hands-on review. It's also available in Brown, in either the 38mm or 42mm size.
I was impressed with the quality of the leather, especially considering its low price. The leather is comfortable to wear, the stitching is even, and the band looks good. The adapters slide on and off easily but lock properly into place.
The Rose Gold shade caught my eye, because it's not a color often seen in leather products. It's quite a pretty shade of soft, shimmery pink. This band is unlike anything in my collection. Oddly, the adapters are a matte rose gold but the buckle is a shiny stainless steel color. Since I have the stainless steel Apple Watch, the buckle is a perfect match while the adapters aren't. However, since the adapters match the band itself more or less, it doesn't stand out or look odd to me.
The buckle itself is unusual. It has two bars instead of one, as you can see in the photos. I haven't figured out the purpose of the outer bar, I guess it's just decoration. At any rate, the inner bar is the one you use, and it all works fine and looks good.
My wrists are 145mm around. Marge Plus says the band fits 140mm to 190mm wrists, so I'm within that range. The band does fit me easily with one more hole to spare. There are two keepers, one fixed and one mobile. The tail does stick out slightly; I can't push the second keeper out any farther because the band is tapered. It's fine for me, but if you're using the smallest hole, the tail would stick out more.
The regular price for the Marge Plus bands is $14.99, but using the promo code AABON9Q5, you can purchase it for $9.99 on Amazon. This is a great deal on a terrific band.
Find more third-party bands in our curated collection.