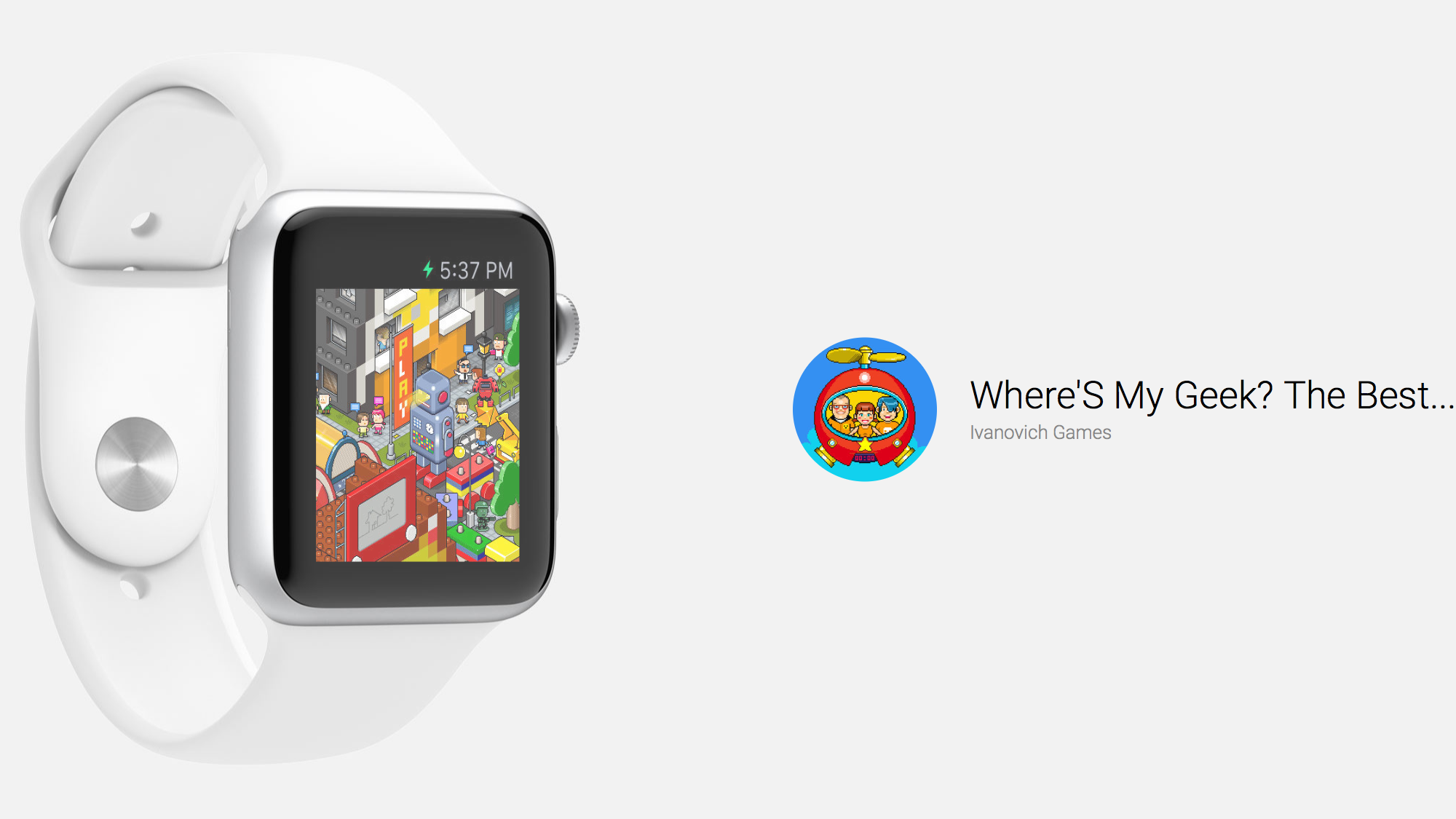 Where's
My
Geek?
Hidden
Object
Game
on
Apple
Watch
January 30, 2017
If there are other hidden object games for the Apple Watch, I haven't come across one yet. Where's My Geek? The Best Hidden Object Game is playable both on the iPhone and the Apple Watch.
If you're looking for a hidden object game that you can play entirely on the Apple Watch, then you'll want to check out Where's My Geek? On the watch, it's a separate, stripped down, extremely simplified version of the iPhone game.
The 8-bit graphics, scenes, and characters are colorful and cute. There is no complication, but you can put the game in your Dock for easy access. When you open the app on your Apple Watch, you'll be presented with a character that you must find, along with a time limit of three or four seconds. Tap the screen to get to your scene, and look for your character. When you find it, tap it. If you are correct, you win a point. You only get one chance. If you tap the wrong spot on your screen, or if you don't tap before the time runs out, you lose.
Gameplay is smooth and it works as expected, but it was a real test of my vision. When I lost a round, it was more because I couldn't see the hidden object, not because I couldn't find it.
You should be aware that while it's a free game, there is a pay wall. After I played for a few minutes, I got a message that said: "Come back tomorrow to play again for free or buy the premium version." I don't begrudge the developer's desire to make a living, just know that if you want to play longer, you'll pay for it. I actually prefer this model, since you get ample opportunity to see if it's a game you'll enjoy before you lay down any money. You can pick up Where's My Geek? The Best Hidden Object Game for free on the App Store.