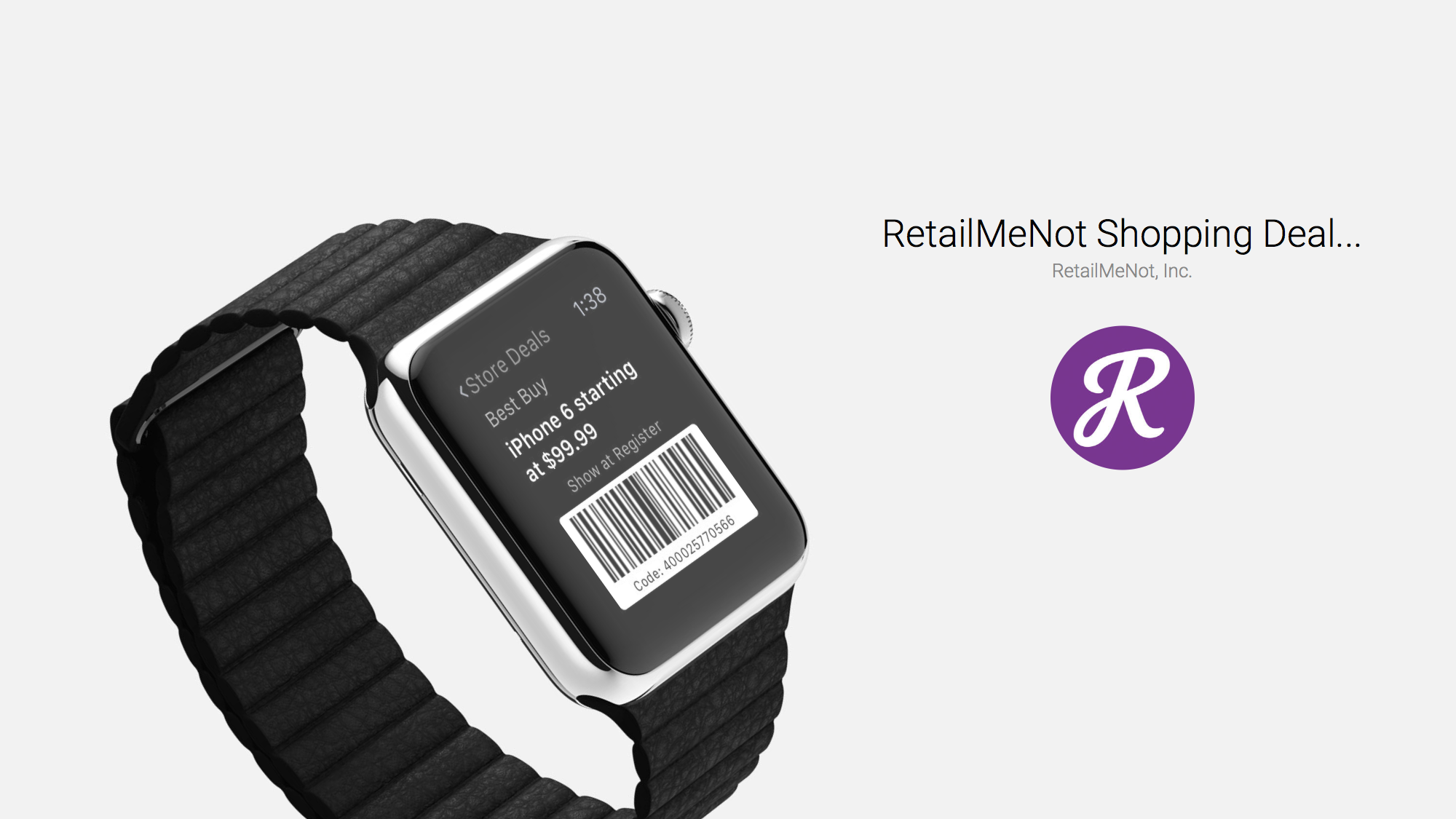 RetailMeNot
Saves
You
Money
Shopping,
Dining,
and
More
January 17, 2017
I'm a big fan of RetailMeNot. I've used the website for online coupon codes for years and probably saved hundreds of dollars. More recently, I've started using the iOS app. Not only does it offer the online shopping codes like the website does, but it also offers coupons that you can use in brick and mortar stores, restaurants, and service providers. Local establishments near my home offering discounts right now include Petco, Ulta Beauty, FedEx Office, Midas, Avis Rent A Car, Boston Market, Brooks Brothers, and BJ's. I've used the app on my iPhone many times; you can use it to bring up a scannable code. I've been saving quite a bit of money this way as well. I don't think I've ever had a code not work for me.
Now you can use RetailMeNot on the Apple Watch. It's not a replacement for the iPhone app, nor is it independent from the phone. The Apple Watch app is a quick way to see if there are discounts where you're shopping and if it's going to be worth pulling out your phone. The App Store listing shows a scannable code right on the Apple Watch, but I'm guessing those are few and far between. All the coupon codes I pulled up handed me off to the iPhone app for the code itself.
A nice thing that you can do on the RetailMeNot Apple Watch app is save coupons. By tapping the star in the listing on your watch, you save it to the iPhone app. So as you scroll through all of the deals on your Apple Watch, star your favorites. You'll find them waiting for you in the Wallet tab on your iPhone.
Here's a tip, if you wish to preserve privacy and battery life. When you initially set up the RetailMeNot app, you do not have to create an account to use the app. Also, say no to Location Services in setup, since you only get to choose Always or Never. Then go into your iPhone's Privacy settings and set RetailMeNot's Location Services for only While Using.
RetailMeNot has saved me a lot of money, and it can save you money too. It's free on the App Store.