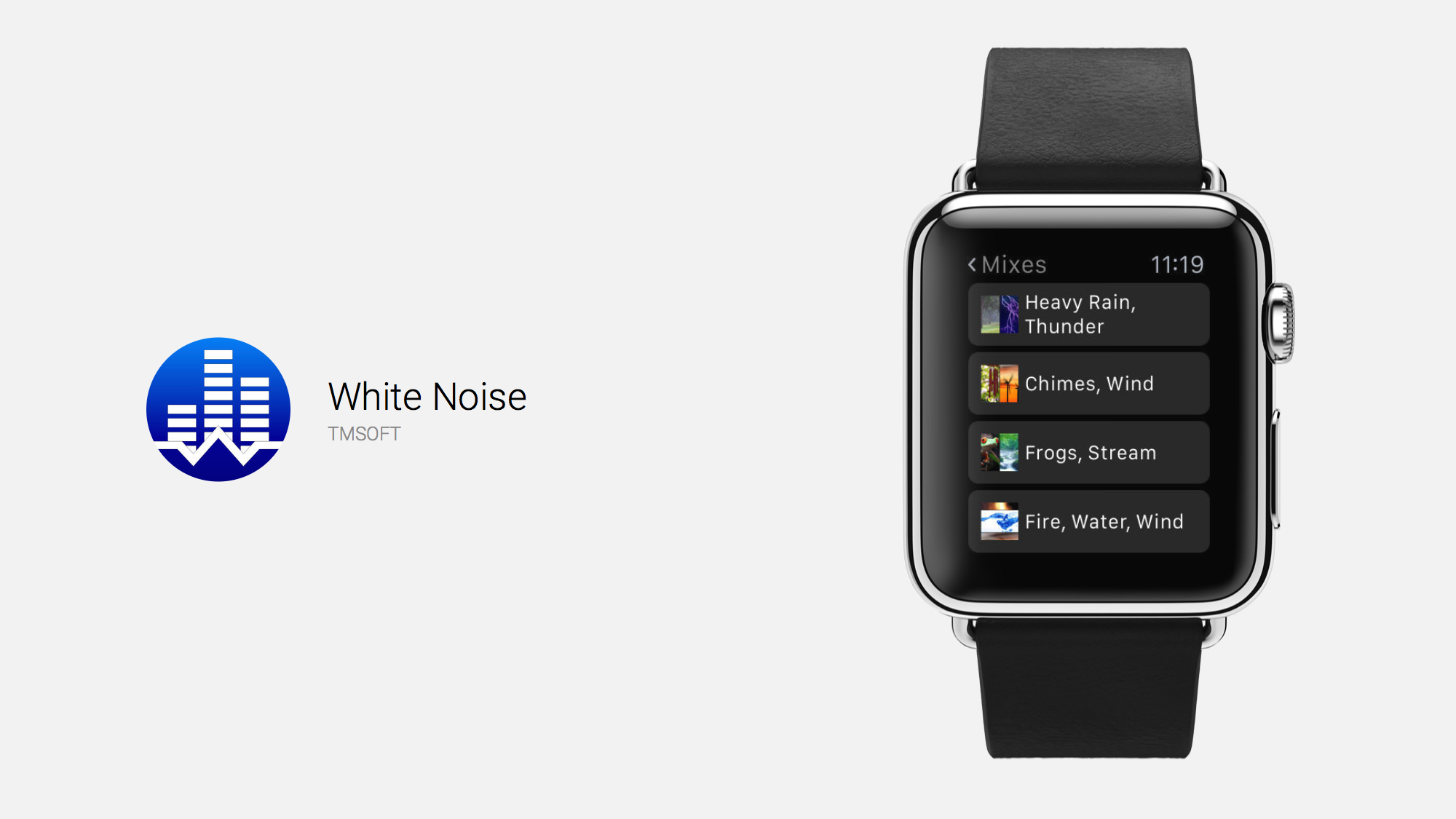 White
Noise
You
Control
From
Your
Apple
Watch
January 10, 2017
White noise is helpful to many of us for sleeping, relaxing, working, or just using as background sound as we go about our daily lives. A good white noise app offers smooth, realistic sound without any clicking giveaway when the sound loops.
The simply named White Noise app by TMSOFT is a fine example of a white noise app. It offers a variety of soothing sounds and some welcome features. It's really an iPhone app; you'll need to open it up on the phone to set up your playlists and favorites. The iPhone is also where the sound actually emanates from. Once you've set everything up to your liking, you can fully control the app from your Apple Watch.
There is no complication for White Noise, but you can place it in your Dock if you want quick access. Open the app and you'll see a menu that lists Now Playing, Sounds, Mixes, Favorites, and Playlists. It's all pretty intuitive. Tap Now Playing to see which sound is playing now, or played last. You can stop or start the sound here, or tap the back or forward buttons for different ones. Tapping Sounds takes you to the full list of sounds; the app logo will appear next to the sound that is currently selected. Mixes, Favorites, and Playlists are all customized however you set it up in the iPhone app.
There are plenty more features on the iPhone app, such as the ability to create your own sounds, timers, alarms, and more. The White Noise app on the Apple Watch is very straightforward and instinctive to use, as an Apple Watch app should be. You don't want to be holding up your wrist fiddling for a long time, especially when you're looking for some Zen sounds to chill out with.
White Noise by TMSOFT is $0.99 on the App Store.