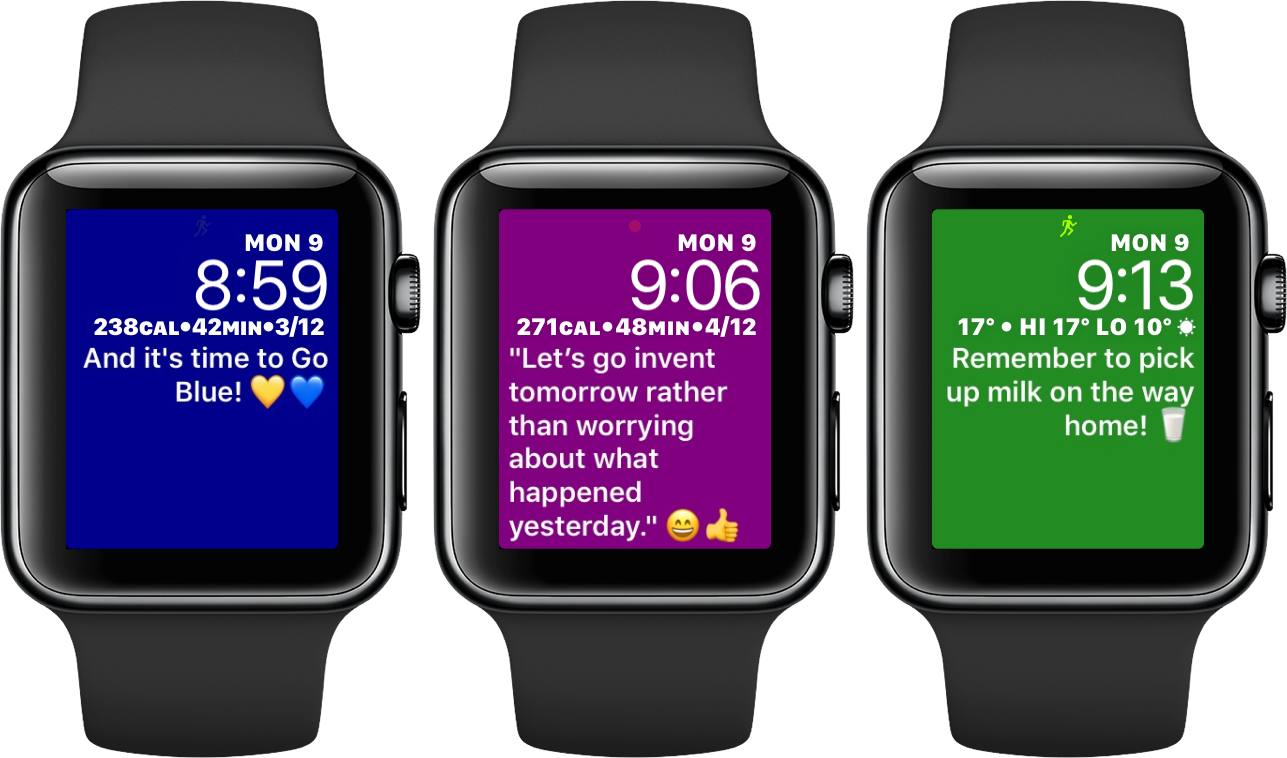 Customize
Your
Apple
Watch
With
Custom
Faces
January 9, 2017
Custom Faces is a nice little app that lets you set up personalized faces on your Apple Watch. It's fun to have a favorite slogan or quote appear every time your flick your wrist. Custom Faces can also be a useful way to set up a reminder, whether it's your garage code or some errand that must be done today.
When you open the app on your iPhone, you'll see all of your options for setting up your Apple Watch face. First, choose from one of 42 different background colors. Then pick your text alignment, whether you want your text to align left, right, or center. Choose whether or not you want to leave space for a complication in between the time and your text. Then choose whether you want to have the time on the top of the face with the text below, or the bottom of the page with your text above. Finally, tap "Insert text" to write whatever you want to say on your watch face. You can fit a surprising amount of text in this space. For one of mine, I used the Steve Jobs quote, "Let's go invent tomorrow rather than worrying about what happened yesterday." And I still had room for a couple of emoji.
Create as many custom faces as you like and be sure to tap the Save button after each creation. I found the instructions for getting the face you've made onto your Apple Watch within the Custom Faces iPhone app to be confusing. Rather than following their instructions, I opened up the Face Gallery in my Watch app. I selected the Custom Faces face I'd just created, set up the complications the way I wanted, and then tapped Add. From there I went to the My Watch tab and tapped on the face of choice, scrolled down and tapped Set as current Watch Face.
Yes, it has banner ads across the bottom of the home screen, but I didn't find them obtrusive. Custom Faces is free on the App Store.