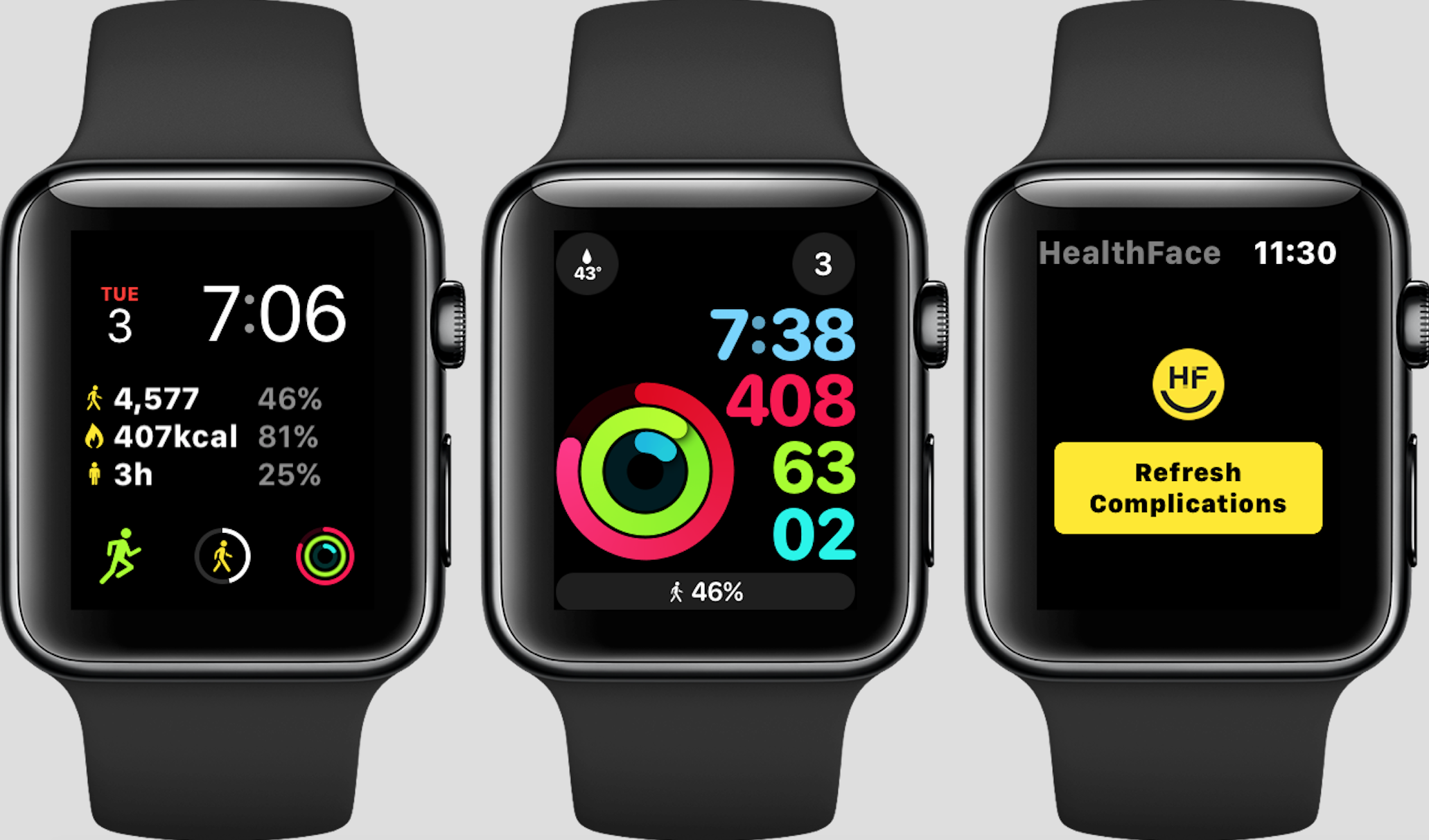 HealthFace
Puts
Your
Health
Data
on
your
Watch
Face
January 7, 2017
HealthFace gives you another way to customize and visualize your health data, above and beyond what the stock health and fitness apps provide. You can place any kind of health data that your iPhone and Apple Watch collect right on to your Apple Watch's face.
HealthFace isn't like most other Apple Watch Apps. It's intended to be used as an informational complication on your Apple Watch Face and nothing else. The complication does not provide a shortcut to some other functionality. The complication is in and of itself the entire app. But if you're interested in your health data, I think it's one you'll be interested in.
You'll need to open the app on your iPhone in order set up and customize your displayed information. First, you choose which Apple Watch face you'd like to create a custom complication for. I'll use Modular as an example here, because it has the most options with its large center spot. Tap Modular, and you'll see two choices of complications you can create: Modular Large and Modular Small. Modular Large gives you three lines to work with. Tap one to choose the category: Activity, Activity Rings, Nutrition, Mindfulness, Sleep, Body Measurements, Reproductive Health, Results, and Vitals. Within each category, there are numerous choices. Say you choose Activity Rings. Then you'll choose from Active Energy, Exercise Minutes, Roll Hours, and Stand Hours. I chose Active Energy, and then was given options like Date Range, Unit (kilojoules or calories), Icon (choose from dozens of cute icons), and Target. And that's just one part of one complication. I think you get the idea – HealthFace is an extremely customizable way to view your health data on your Apple Watch.
If you feel that the way the Apple Watch displays your Health Data is too rigid, check out HealthFace for a way to show the data you are interested in, the way you want it shown. It's worth the $0.99 on the App Store to get your data your way.