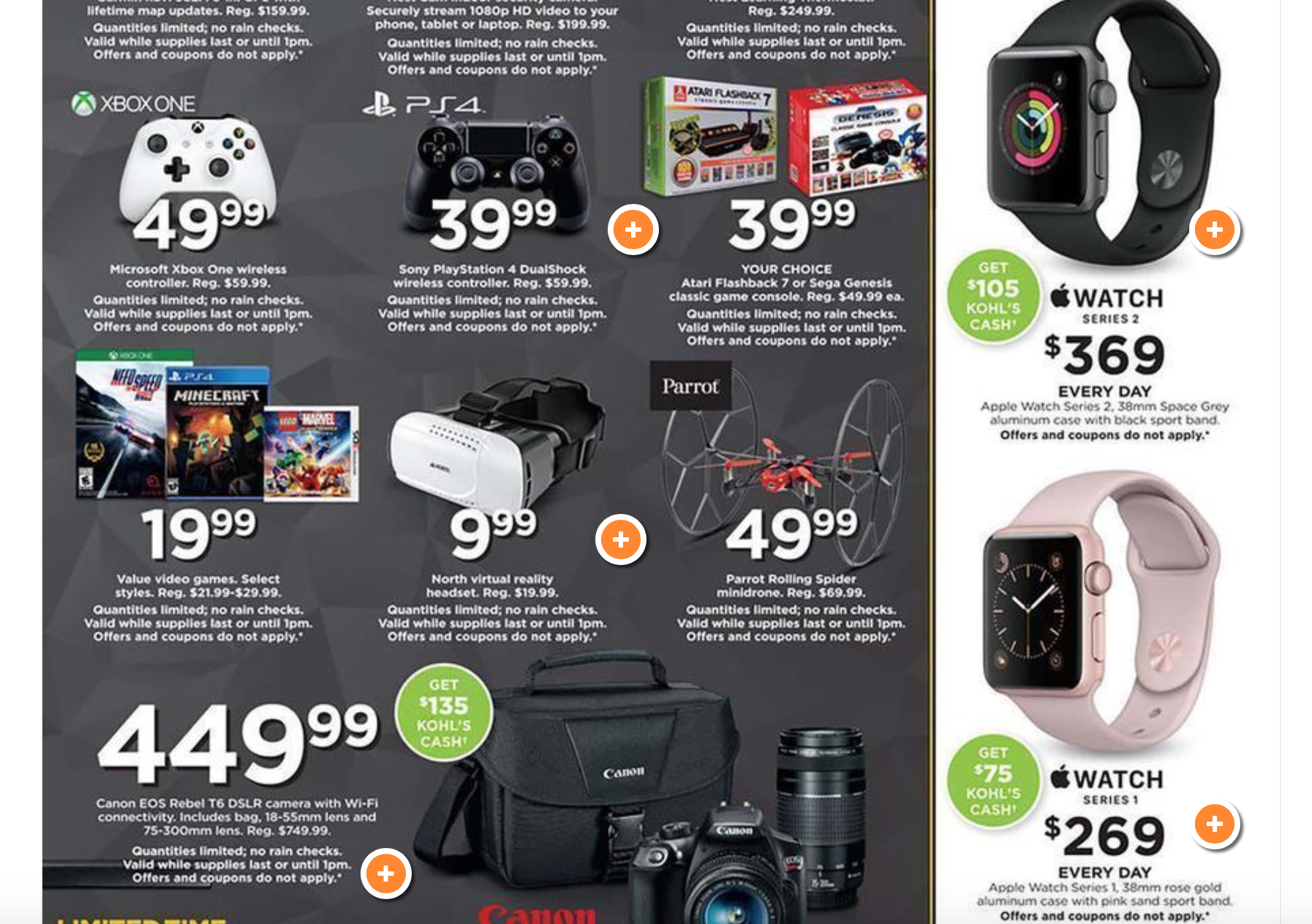 You
Can
Get
a
Black
Friday
Deal
on
the
Apple
Watch
at
Kohl's
November 3, 2016
According to Fortune, Kohl's will begin carrying the Apple Watch in time for the holiday season. In fact, the Black Friday ads for Kohl's have already leaked online, and you can see the Apple Watch is included. The Apple Watch is not going to be sold for a discounted price, but you will get "Kohl's Cash" when you take advantage of this Black Friday deal. In case you're not a regular Kohl's shopper, Kohl's Cash is essentially a gift certificate you can earn when you spend a certain amount of money at Kohl's. Generally you can't spend it right away; it becomes valid a week or so later. Kohl's Cash does expire, and it usually expires pretty quickly, so you have a pretty narrow window in which to use it. This is only a good deal if you remember to use it, and there is something else you actually want to buy at Kohl's.
As you can see in the ad, Kohl's will sell Apple Watches at regular price: $369 for Series 2 and $269 for Series 1. No Kohl's store discounts and coupons will apply. Here's the bargain: If you purchase the Series 2, you get $105 in Kohl's Cash. With the Series 1, you get $75 Kohl's Cash. If you like to shop at Kohl's anyway, or you're willing to start, then getting the Kohl's Cash is almost like getting a $75 or $105 discount on the Apple Watch.
The ad only mentions two models, the 38mm Apple Watch Series 2 in Space Gray with the black Sport Band, and the 38mm Apple Watch Series 1 in Rose Gold with the Pink Sand Sport Band. However, according to the article in Fortune, Kohl's will be carrying 10 models of the Apple Watch. I would imagine that this deal would not be limited to the two models mentioned in the ad.
You can check out Kohl's Black Friday ad here.