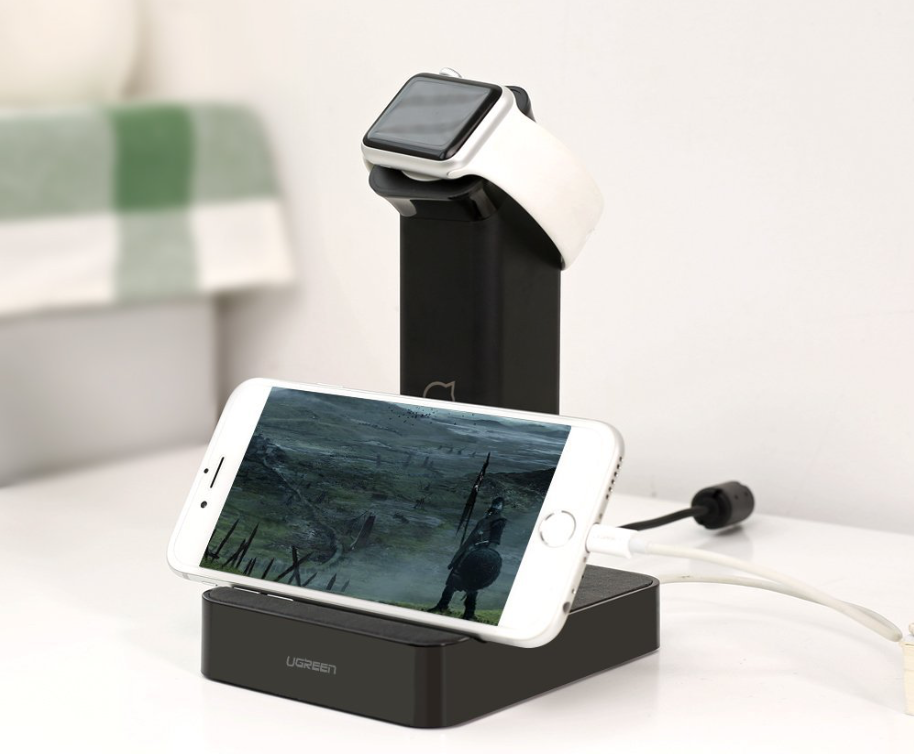 Ugreen
Charging
Dock
for
Apple
Watch
Plus
Two
iOS
Devices
is
MFi
Certified
October 24, 2016
This charging dock from Ugreen has the Apple Watch charger built right in, so you don't need to use the Apple Watch charger that came with your watch. It does have the "Made for Apple Watch" logo, which according to Ugreen means that it has been designed to connect specifically to the Apple Watch, and has been certified to meet Apple performance standards. Ugreen further notes, however, that Apple is not responsible for the operation of this device or its compliance with safety and regulatory standards, and use of this accessory with Apple Watch may affect performance. I was unable to find any information directly from Apple about the "Made for Apple Watch" logo in regards to anything other than band adapters. So take it as you will. This charging dock is also MFi Certified, according to Ugreen. The MFi program is clearly laid out by Apple, which you can read about here. I have been testing this out on my own Apple Watch, iPhone, and iPad, and found it to work exactly as expected.
The dock is constructed of black plastic, but it looks fine. It doesn't look particularly special or luxurious, but it's not cheap-looking either. The watch is held aloft, and held in place by the magnetic charging puck. Nightstand Mode does work.
However, the band is an issue. You either need to have a band that expands pretty big, such as the Milanese Loop, or you need to have a band that opens up entirely, such as a Sport Band. As you can see in my photos, the Apple Watch looks much more secure with the Milanese Loop style band. My Sport Band barely fits on the charger with the pin in the last hole. Some of my watch bands are smaller and can't be clasped at all while charging on this dock. And frankly, I don't want to have to clasp my band to put it on the charger every night. But with the band wide open, the watch doesn't sit straight on the charger or look quite as secure. I wish this charger had been designed in such a way that the watch doesn't need to fight gravity.
There are two USB ports in the back, so you can charge your other iOS devices. I charged both my iPhone and my iPad at the same time I was charging my Apple Watch. It all works, and it seems to charge everything at about the same speed as anything else. You will need to use your own iOS charging cables, as none are included with this dock.
Bottom line: as long as you don't mind the awkward positioning of the Apple Watch, Ugreen's charging dock is an effective charging unit. It's nice to have a second charger to keep at the office or wherever you might need one. It's also nice to be able to plug in two other devices. You can find the Ugreen Charging Dock with 2 USB Charging Ports on Amazon for $49.99. There is also an option without the USB ports for $45.99.