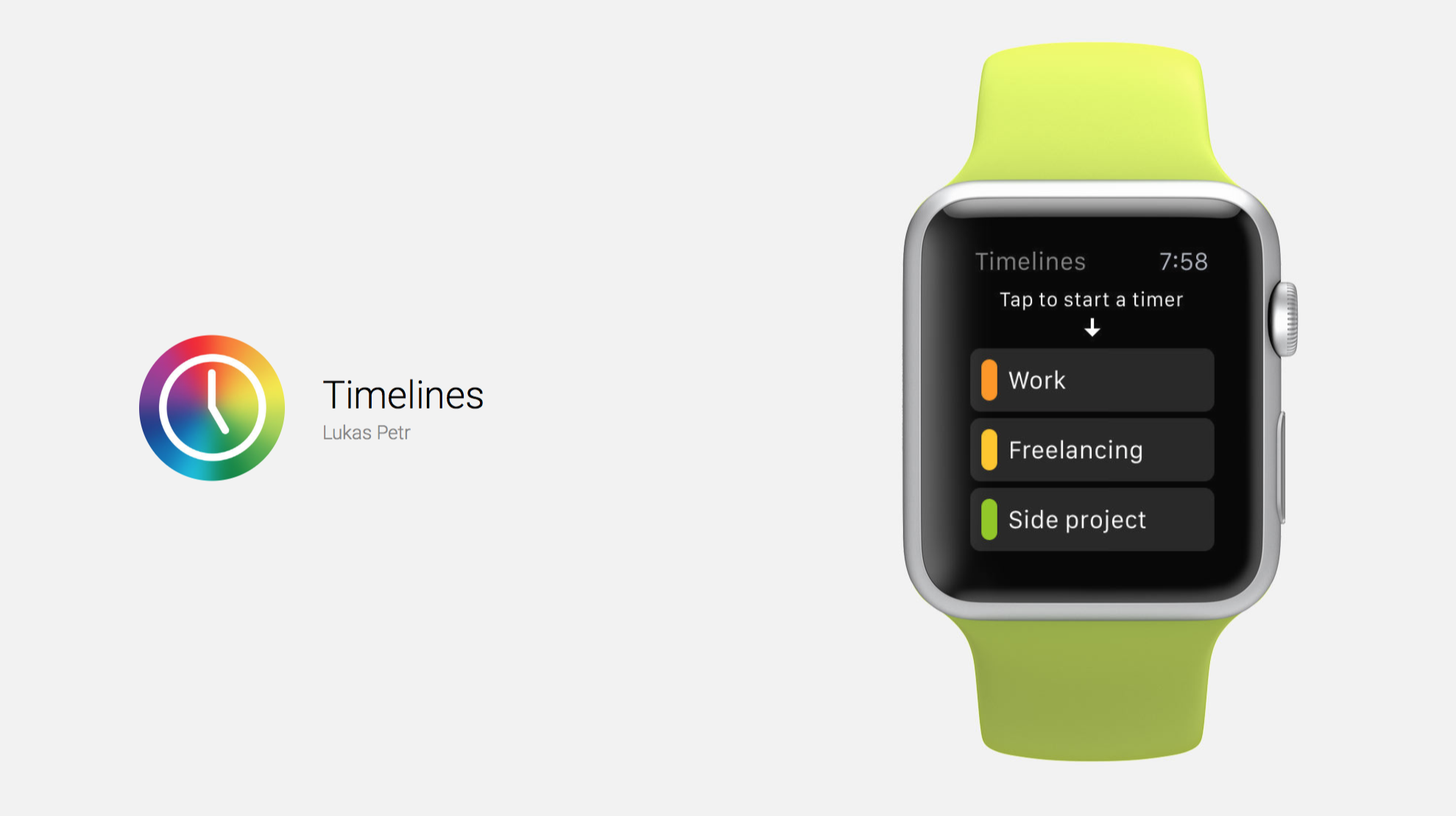 Track
Your
Time
With
Timelines
on
Your
Apple
Watch
October 17, 2016
If you are a freelancer, or anyone with a complicated schedule who works on multiple projects simultaneously, it can be helpful to be able to visualize exactly how you spend your time each day. Timelines helps you track your time and puts it on an exportable graph for you.
I think this app is indicative of the kinds of Apple Watch apps we could be seeing more of in the future. While it's primarily an iPhone app, and you don't strictly need to use the Apple Watch, the watch does come in handy and save you time.
You will need to set up each of your timelines in the iPhone app. Once you're set up, you can use the Apple Watch to start and stop timers for each timeline and switch between projects.
On the Apple Watch, you can put a complication on your watch face. Not only can you use the complication to access the app on your watch, but you can see how much time has elapsed in your current project. If you don't wish to use a complication, you can also access Timelines via the Dock.
You want to switch to a different project? No problem, just open up the app, go to the menu, and tap on the project you're working on now. The timer will start again. Go back and forth between your various timelines as you wish. You can change the name of an event within the Apple Watch app with a force press and dictation.
Once you've completed your time period of choice, i.e. day, week, or month, go back into the iPhone app. There you can access a detailed, zoomable timeline, and a pie chart that shows exactly how much time you spent on each project. You can export that chart as a PDF or CSV file.
There is a bit of a learning curve with this app, and it's not cheap. However, it could really come in handy for people who need to track exactly how they spend their time. Timelines is currently on sale for $4.99 on the App Store now.