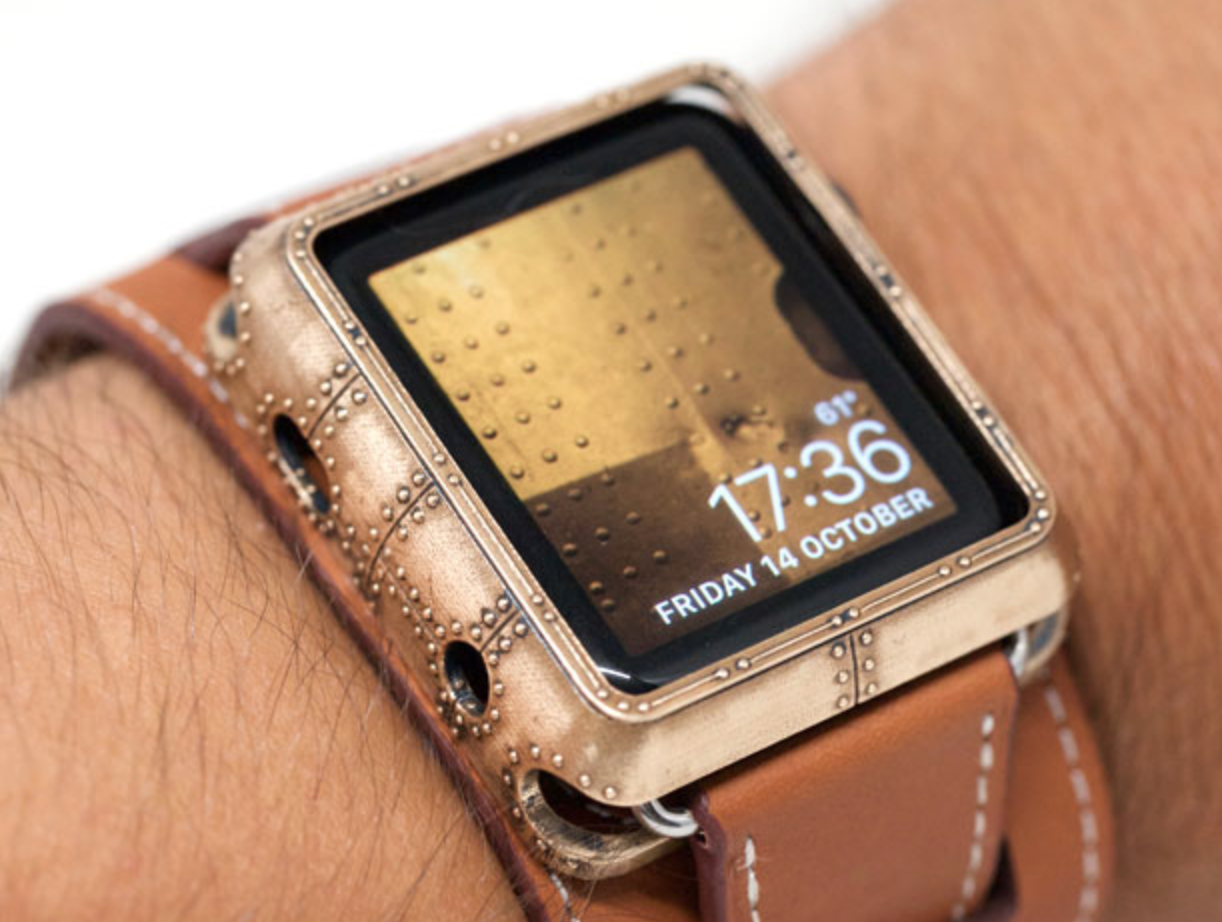 Artist
Creates
Cool
Steampunk
Apple
Watch
Case
Modeled
After
Ironclad
Ships
October 16, 2016
Artist, techie, blogger, and new Apple Watch owner Jeremy Burnich wanted an Apple Watch case that would not only protect his new purchase, but also make it stand out. He wasn't particularly impressed with the bulky, plastic-looking cases on the market. So he set about creating his own unique cover, which he details on his blog, Joy Complex.
He says,
Recently I found myself looking at old photographs of ironclad ships from the late 19th century.  You know, ships like the US Civil War steamship USS Monitor.  I really liked the rough and ready look of the riveted iron sheathing and decided to reference that design language when creating the look of my new watch case. In normal speak; I was going make my watch case look like an old warship.
Burnich started by creating a basic plastic model with 3D software, his home 3D printer, and PLA plastic. Once he had that the way he wanted it, he set about designing a detailed metal model in a sculpting program called ZBrush. He chose to sculpt it "by hand" this way so it wouldn't look machine-perfect. As a result, the rivets and iron sheeting look handmade, as ships in the late 19th century would be. It definitely has the steampunk vibe he was going for.
He sent his design to a producer and had it made up in bronze. Next he needed to add patina for an authentic retro look. He used various chemicals and treatments, including a chemical called Liver of Sulphur, which sounds like it smells just amazing. At any rate, it did the trick, and the result is incredible.
You can read his full article and DIY instructions here. You can purchase this Apple Watch cover on Burnich's website JoyComplex, his Etsy shop, or Shapeways. All photos credited to Jeremy Burnich.