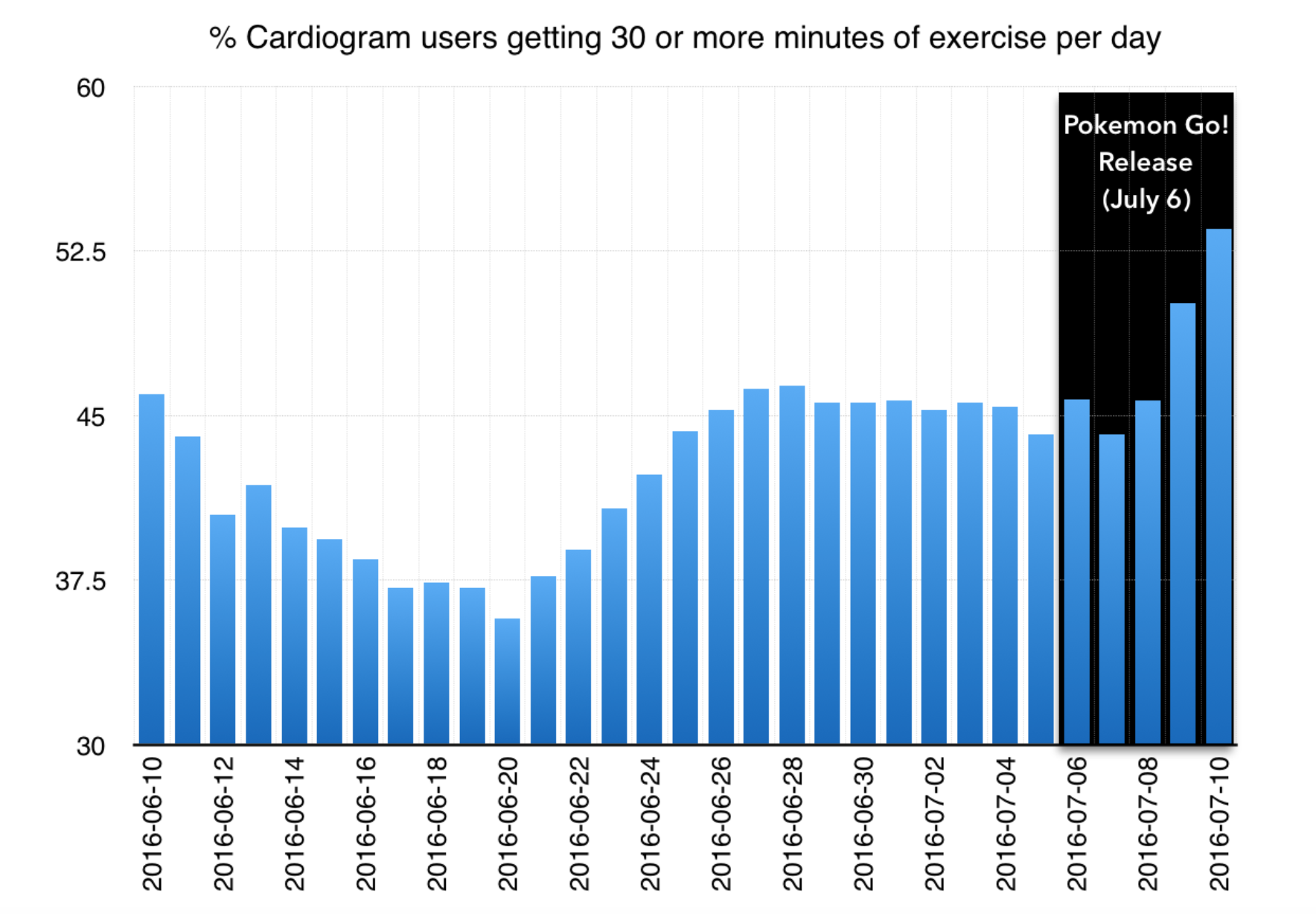 Cardiogram
Users
Exercise
More
With
Release
of
Pokémon
Go
July 13, 2016
Cardiogram is a free app that graphs and analyzes heart rate measurements from the Apple Watch. It collects data from all of its users for researchers at the UCSF Health eHeart study to invent new ways to treat heart disease. One of the co-founders of this app, Brandon Ballinger, noted on his blog that since the release of Pokémon Go, there has been an uptick in the exercise levels of app users.
In case you've been living under a rock, Pokémon Go is the latest craze. Playing the game involves capturing characters everywhere you go, and the more you are out and about, the more opportunities you have to score. I've heard anecdotal evidence that the game is encouraging exercise. For example, my normally sedentary daughter has been making play dates to run around and explore nearby neighborhoods to catch Pokémon. It's great to see some evidence that this is could be a real trend leading to healthier lifestyles. You can click to enlarge each of the graphs below.
Of course you can never assume causation where there is correlation, but there is no denying that Pokémon Go is a huge phenomenon. We don't know if Cardiogram users are also using Pokémon Go, but it certainly looks like a possibility.
Though I would not expect the Pokémon fad to continue indefinitely, if more people get more exercise now and they see how good it makes them feel, perhaps they will want to continue with a healthier lifestyle long term. This also encourages other developers to create engaging games that have a real life, get up and move component.
You can read Ballinger's full article here. If you're interested in being part of Cardiogram's research, click though the graphic below to download the app.