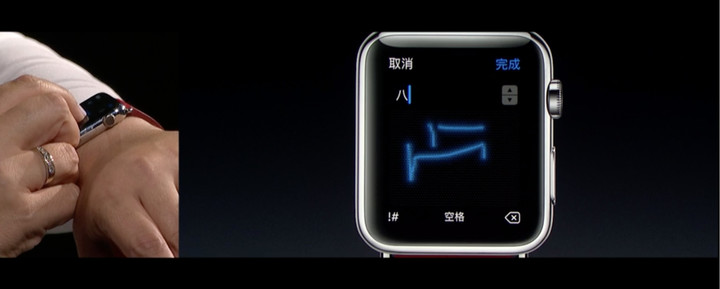 See
Upcoming
watchOS
3
Feature
Scribble
in
Action
Now
July 6, 2016
I made and uploaded a brief video of Scribble so you can see it in action. The experience of using Scribble is delightful. It's an excellent solution to the lack of a keyboard on the Apple Watch, not that I'd want a keyboard on the tiny screen. But dictation isn't ideal for using in public, and the pre-set messages only get you so far. Scribble brings a much-needed update to the Messages app and makes the watch a better communication tool.
It works exactly how you would hope it would. Just start scribbling out letters, your handwriting does not need to be neat. Mine definitely isn't. Scribble will even correct itself if it initially misinterprets your writing, as you can see in the video when my first "T" is initially interpreted as a "1." You can go pretty fast, there is no need to wait for one letter to send before scribbling the next. You can draw your punctuation or tap a button to access a menu of punctuation marks. In the video, I used the punctuation menu button so you could see it, but I could have just as easily drawn a period or hit the space button twice to make one.
If you can't see the embedded video, click here to view it.
Update: I just discovered that if you turn the Digital Crown after writing a word, you will get a handful of suggested words. This comes in handy if the Apple Watch misreads your handwriting. You can see an example of this in the screenshot below.