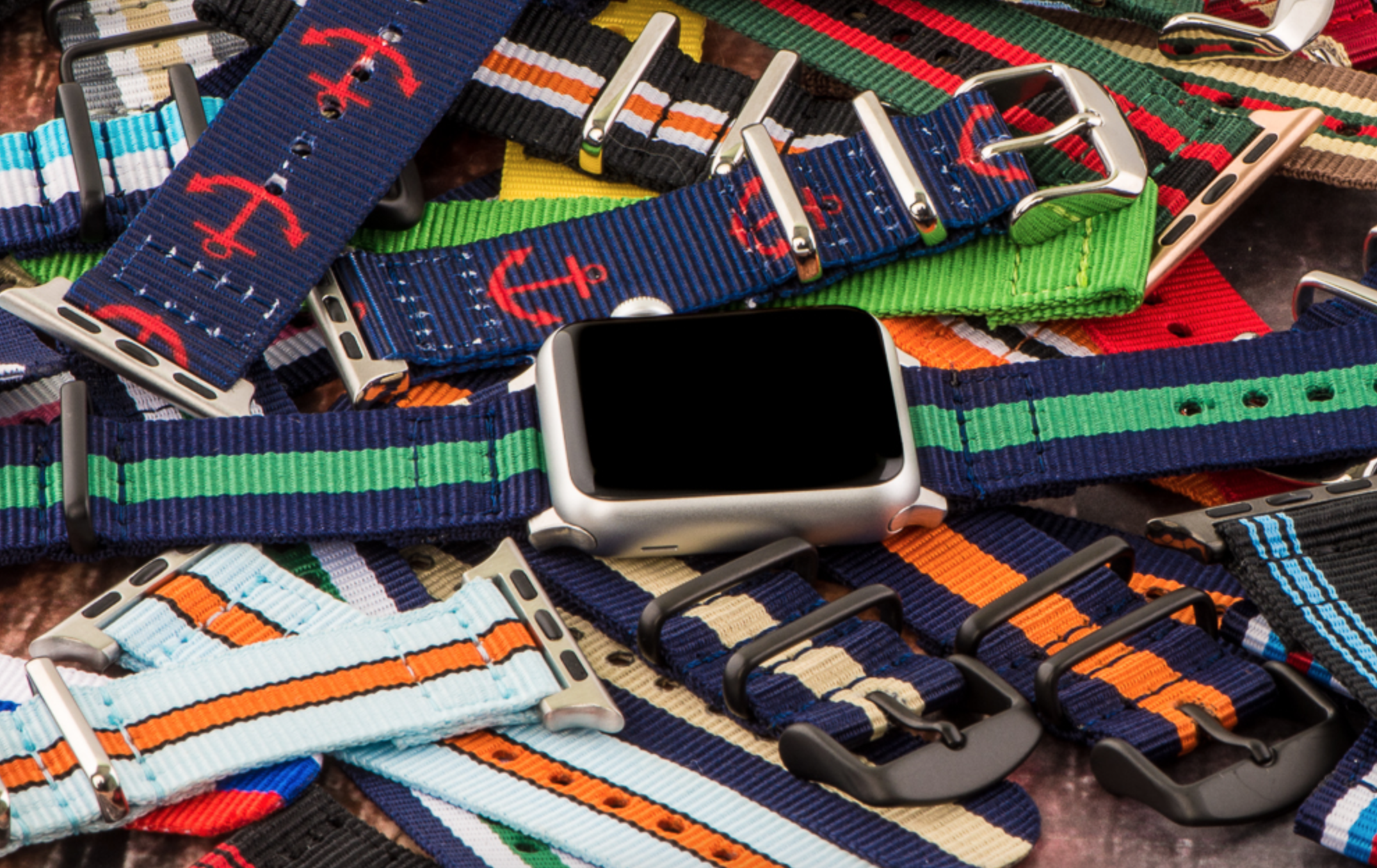 The
Classic
NATO
Band
from
Clockwork
Synergy
Makes
the
Grade
June 1, 2016
Clockwork Synergy offers Apple Watch bands in a huge variety of styles, materials, patterns, and colors. They were kind enough to send me two for review; the first one I'll be reviewing is the 2-Piece Classic NATO Band.
I was worried that a nylon band not designed by Apple would be stiff and uncomfortable, especially for someone as sensitive as me, but this is not the case at all. This NATO band is soft, light, and comfortable to wear right out of the box. I was stunned by the gorgeous Maroon color. It has a little bit of shine to it that's not obvious in the website's photos. These bands aren't really comparable to Apple's Woven Nylon. They're not better or worse, just totally different in look and style. At half the price, and many times the color/pattern variety, they are definitely worth considering if you're in the market for a nylon band or just something new and distinctive.
The strap is long to accommodate a wide variety of wrist sizes. My wrist measures 145mm and I can wear the band comfortably on the second hole. There is so much excess strap that I have to tuck it in or it would stick out nearly an inch from my wrist. It does stay perfectly tucked all day, so it's not an issue for us small-wristed folks.
I have to mention the adapters. Virtually every Apple Watch band I own with adapters has the adapters with pentalobe screws, which allow you to theoretically use the same set of adapters for multiple bands. In reality, however, the screws are so tiny that they are easily threaded or lost, so you are just as likely to ruin the adapter as you are to successfully swap out bands. The adapters that Clockwork Synergy uses may not allow "easy" band swapping on a single set of adapters, but they are classier, the band fits perfectly, and they look like traditional watch lugs. I would rather that every band I own have its own set of adapters anyway, because trying to use one set of adapters for multiple bands completely defeats the purpose of Apple's elegant quick-release band system.
Clockwork Synergy's adapters look harmonious on the Apple Watch, slide on and off of the watch like butter, and lock securely into place as they should. As I mentioned in my review of the Oittm metal link band, other watch bands would benefit from using these adapters.
The 2-Piece Classic NATO Band comes in both the 38mm and 42mm sizes, but some colors come in only one size. This band comes in 86 different colors and patterns. Good luck choosing only one. The buckle is available in two different colors, Steel or PVD Black. For your adapters, you can choose from seven colors: Stainless Steel, Brushed Steel, Brushed Gold, Rose Gold, Yellow Gold, Space Gray, or PVD Black. You can purchase the 2-Piece Classic NATO Band on Clockwork Synergy's site for $24.95. Additionally, you can save 15% with the coupon code 15watchaware now.
You can find more direct Apple Watch band replicas here.