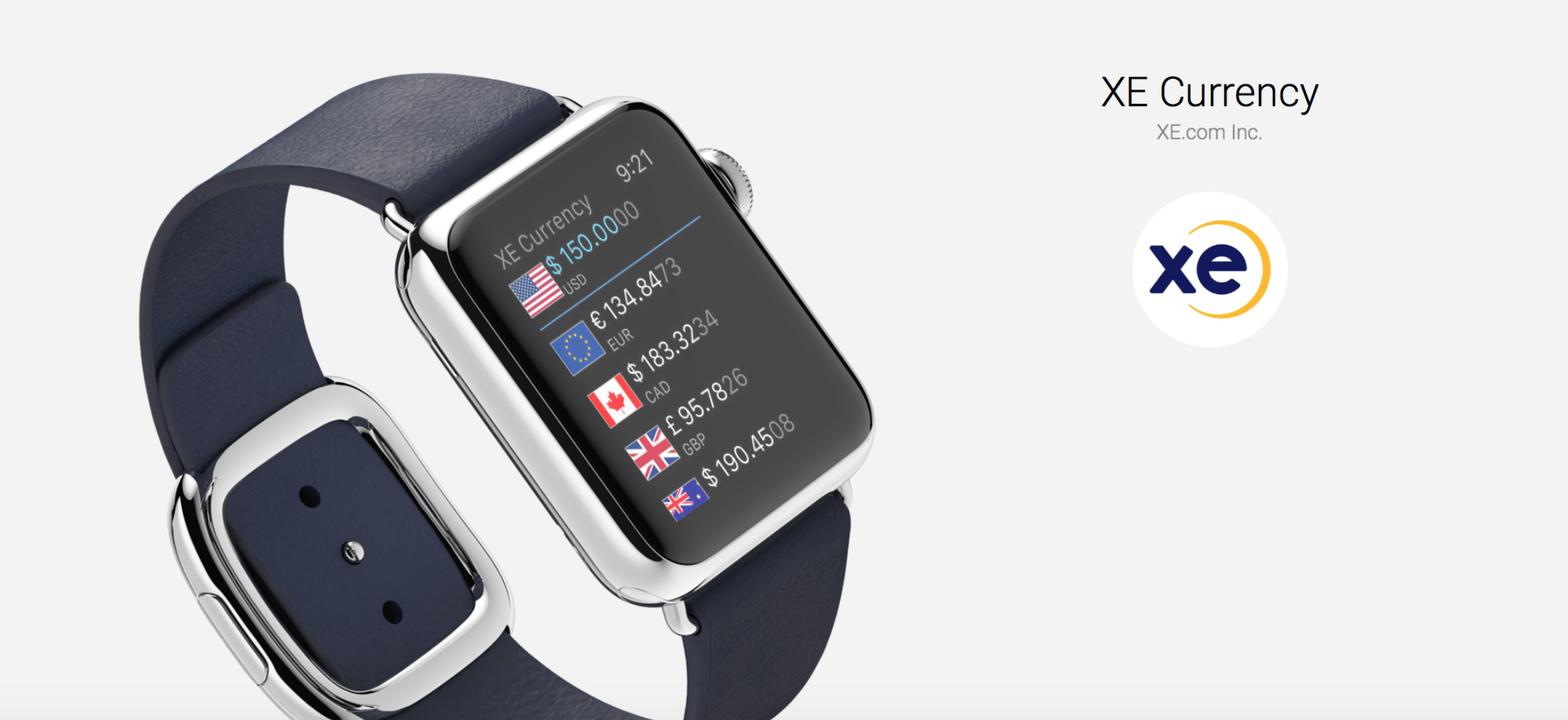 XE
Currency
is
the
Only
Currency
Converter
App
You
Need
on
Your
Apple
Watch
May 24, 2016
When you're traveling out of the country and you don't have international service on your iPhone, you need a currency converter app. Siri won't work at all if you're in Airplane Mode, which is how I always travel abroad with my iPhone. I can't risk massive international data fees. XE Currency works, even in Airplane Mode, using the latest rates gathered when you were last in a Wi-Fi spot.
XE Currency has a fabulous large complication for the Modular face. It includes the time when the rates were last updated, and your "base" currency of choice (i.e. the country you're in) and the first "conversion" currency on your list (i.e. your home country's currency.) You can change your base currency at any time on the Apple Watch by simply tapping on the country of your choice within the app, and all of the currency conversions are re-calculated instantly. To re-order the currencies populating the rest of your list, you'll need to pull out your iPhone, though. Surprisingly, virtually everything else can be done without the iPhone at all.
The complication displays the current currency rate between the top two currencies of your choice at all times, so you can see it with just a flick of the wrist. If you want to convert a specific amount from one country's currency to another, it's easy to do on the Apple Watch. Just open the app via its complication or glance, tap your base currency, and a numerical keypad pops up. Key in the exact amount, tap the "=" button, and see that amount instantly converted into all of the currencies on your list. This works even in Airplane Mode.
The glance itself is kind of cool, showing a graph comparing your top two currencies over time. I'm not sure how useful that is in the moment, but it's an interesting way to visualize the strength of any given currency against another.
XE Currency is a must for international travelers. Not only can you get quick and easy currency conversion, but you can do it lighting fast, without use of cellular service or Wi-Fi, and without ever pulling out your iPhone. The free version of XE Currency does everything I've described here; additional features, like rate alerts, are available via in-app purchase.