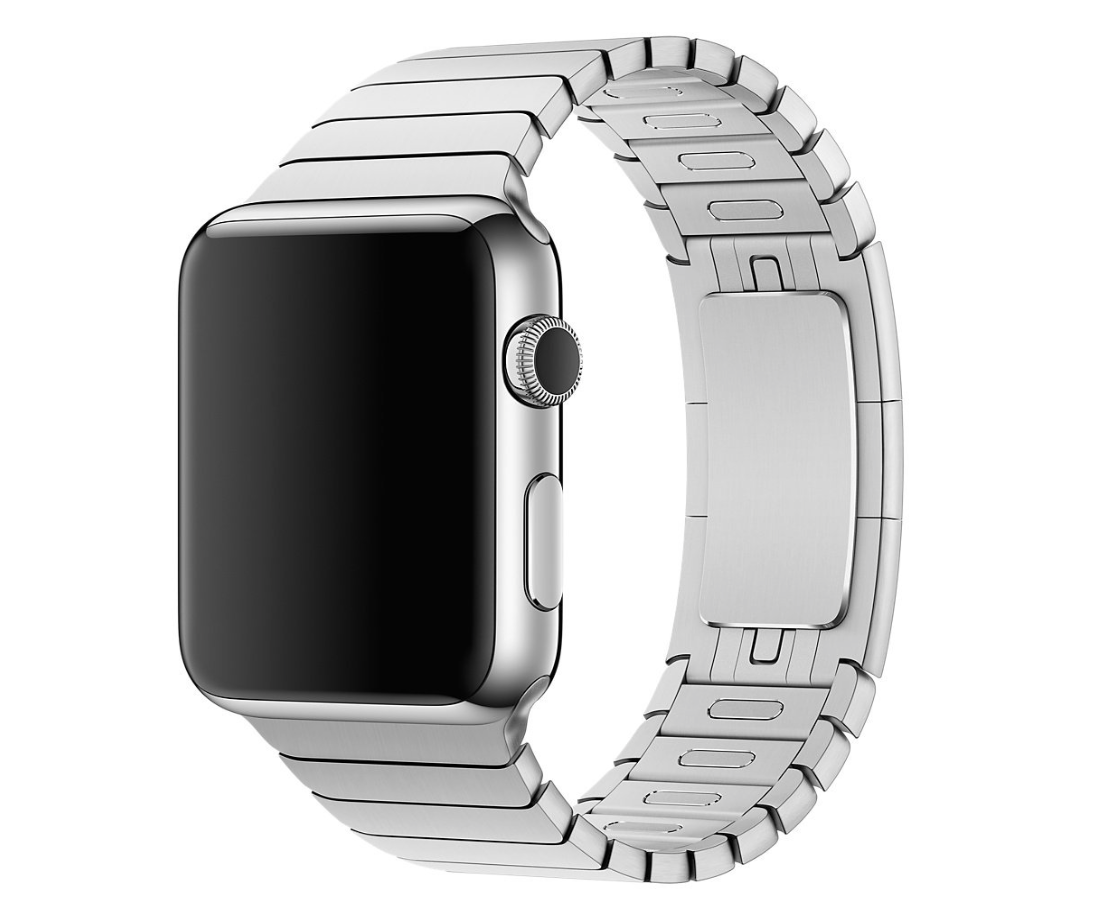 Grab
a
Budget
Apple
Watch
Link
Bracelet
Knock-Off
From
OULUOQI
May 13, 2016
OULUOQI sent me their Apple Watch Link Bracelet replica for review. I was surprised at just how close it is to Apple's for less than a quarter of the price.
The first generation of Link Bracelet copies to come on the market were not very close to the real deal. They required tools to remove extra links for a perfect fit, the poorly copied butterfly clasp jabbed wearers, and there were large gaps between the links. However, OULUOQI's version is far closer to Apple's.
In each photo, the OULUOQI band is on the left, Apple's on the right.
As you can see, visually, they are pretty close. Apple's band is a slightly whiter silver, and the OULUOQI links still have tiny gaps between them. Like the Apple Link Bracelet, the OULUOQI allows you to remove links by pressing a small button on the underside of the band, so no tools are necessary. This was pretty easy to do.
The adapters fit the Apple Watch perfectly, with no overhang or gaps. The butterfly clasp works exactly as expected, it is flush against my wrist and feels perfectly comfortable. It doesn't poke me at all.
A note about fit: I have a pretty small wrist, it measures 145mm around. I do think the Link Bracelet is intended for a larger wrist. I removed eight links, which is the maximum for both the OULUOQI band and Apple's. The band fits, but it is not snug all the way around. As you can see in the photo below, while the watch itself is held flush to my wrist, the band does stick out a little on the top and bottom. This causes it to shift around when I move. It isn't uncomfortable, but it doesn't disappear from my consciousness like most bands do. I am more aware of it throughout the day than other bands. I wasn't able to remove all of the links in the Apple band when I was making comparisons at the Apple Store, but I looked around online and noticed that the real band does fit many smaller-wristed people the same way. I do think that the OULUOQI band will be able to form a more round shape on people with larger wrists.
At any rate, I still find this band appealing and will wear it regularly. Despite the shifting around it does, it has never lost contact with my wrist or disconnected from my iPhone. While the sides are loose, the top and bottom are comfortably snug. The gaps between links might be a deal breaker for some people, but keep in mind that they are more noticeable in the close-up photos below than in real life. It comes in Silver and Black, in both the 38mm and 42mm sizes. You can purchase it for $99.89 on Amazon.
For more Apple Watch band knock-offs at excellent prices, check out our buyer's guide.