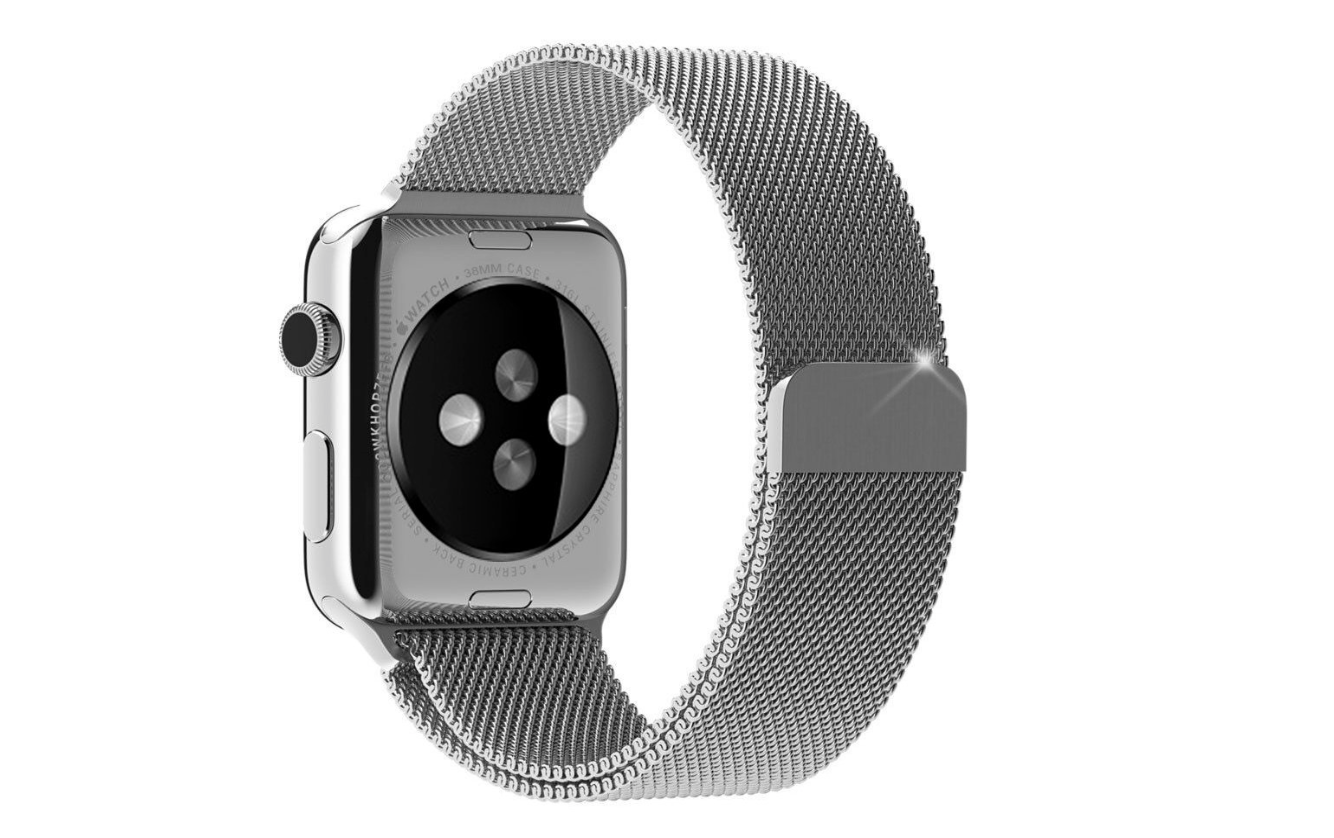 I
Found
A
Great
Bargain
Milanese
Loop
Replica
On
Amazon
April 5, 2016
Amazon seller MargePlus sells a number of different Apple knock-off band styles for a fraction of Apple's prices. I got the silver ($15.99) Milanese Loop style band for review, and it is really nice. It also comes in black ($15.99) or gold ($29.97). I got the 38mm size, but each color comes in 42mm as well.
It looks very much like Apple's Milanese Loop. The fit and finish is beautiful. The band slides right onto the watch and locks easily into place. The adapter is shiny and matches the stainless steel of the Apple Watch perfectly. I would be hard pressed to tell that it's not Apple's band. The only difference in outward appearance I can see is that it is ever so slightly narrower than Apple's, so there is a tiny bit of wiggle room on the adapter. It doesn't slide around or bother me when I'm wearing it.
The band is comfortable and fully adjustable. It claims to fit wrists from 150mm to 230mm, but they are being overly cautious on the lower end because it fits my 145mm wrist perfectly. If your wrist is much smaller than mine, however, the band may be too large for you. I don't have much room to go tighter.
The magnet is strong and I don't have any problems with slipping while I go about my daily activities. As with all of the Milanese Loop knock-offs I've heard of, the magnet is not shielded on the outside. So you may have some issues with sticking to metal things you come into contact with. This has not been an issue for me at all. Since my wrists are small, the metal end comes almost back around to the watch face. With that placement, it just doesn't come into contact with anything. If you have a larger wrist and the metal end part sits at the underside of your wrist, it might be an issue for you.
Despite minor issues, this is a quality product well worth its small price tag. A 38mm or 42mm Milanese Loop style band can be purchased in silver or black on Amazon for $15.99, or gold for $29.97.
For more Apple Watch band knock-offs, check out our buyer's guide.