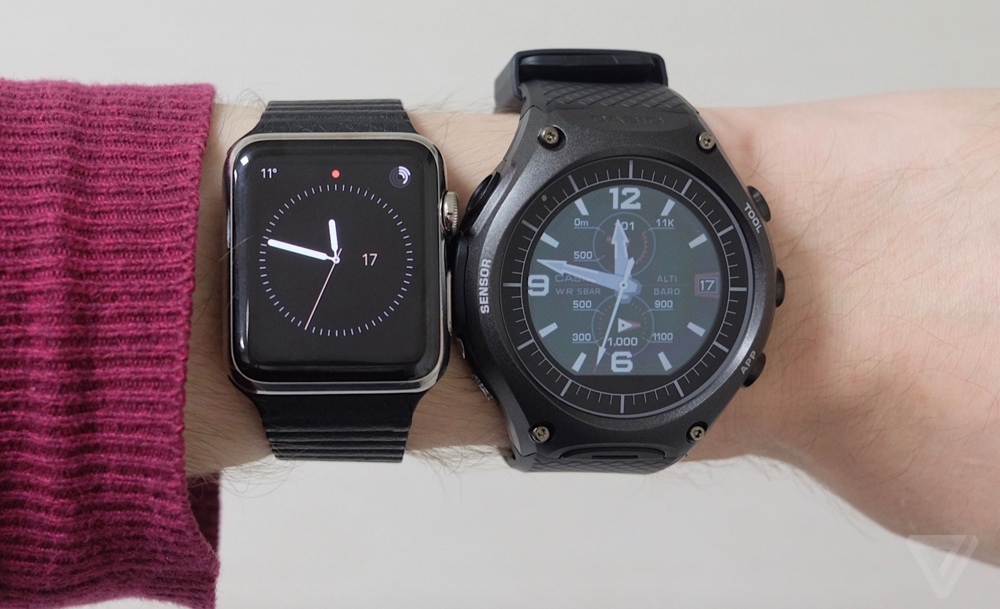 Casio
Unveils
Its
WSD-F10
Android
Wear-Powered
Smartwatch
January 6, 2016
Casio's WSD-F10 Android Wear Smartwatch doesn't have a catchy name (indicative of Casio's stated intent to release several such watches across a spectrum of use cases), but it fixes some of the central issues Apple Watch laid bare re: outdoors utility. Ruggedness in particular is a central theme to Casio watches, and this model is no exception, falling directly in line with what you'd expect from the Pathfinder/PRO TREK and G-Shock series.
The WSD-F10 is more or less "environment proof" and water resistant up to 50 meters. While the battery only lasts about 24 hours in Wear mode, the device actually has a separate, conventional monochrome display that will extend its limited-use life to a month or so. However, the smartwatch will not be able to function as an ABC (altimeter, barometer, compass) watch in this power save mode (which is odd, as my old Pathfinder does this indefinitely via a small, solar-charged battery), so its outdoors acumen will be mostly lost when the main 320×300 color LCD cuts out. That 24-hour functional limit for such a device is unfortunate, to say the least.
If you're in the market for something like this, you'll be able to pick up the WSD-F10 stateside sometime in April after its March Japanese launch. But be prepared to shell out $450 to $550, as that's the expected MSRP range.
And be sure you dont mind flat tires.
Sigh.