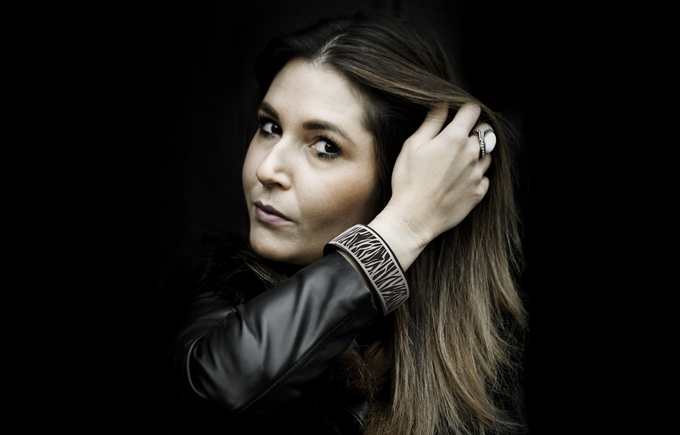 Bracelite
For
Apple
Watch
Seeks
Kickstarter
Funding
December 7, 2015
Here's an odd accessory making the rounds today from Italian fashion startup Texturization: the Bracelite.
Essentially, this thing is a fat e-paper display bracelet that mates with Apple Watch via a pair of special Band connectors (which can be removed for "bracelet-only" mode). The most unique aspect of this particular device is that, per the creators, Bracelite offers
No notifications, no extra information: Bracelite is pure aesthetics.
Weird. Indeed, all Bracelite does is provide a "texture" — or, more accurately, a "pattern" — display that changes based on things like time of day, calendar events, your mood (whatever that means), and so on. You can even take pictures of a pattern with the iPhone or Android app and have it show up around your wrist.
I suppose there's a certain grace in this single-dimensional aspect of the Bracelite, but the digital bracelet seems to have a few drawbacks. First, by their very nature, rigid bangles are floppy: they move around as you do. This renders the best features of Apple Watch — heart rate monitoring and fitness tracking — completely useless. Second, Bracelite's EPD seems to be non-backlit, meaning that the "lite" part of the product's name is a bit misleading. (It's probably not all that lightweight, either, considering the girth of the cuff.)
Anyways, I'm not sure there's a real market for this kind of thing, albeit I'd reckon that there'd be more of one if it did more than just display fashion patterns. A news or sports or stock ticker or something might be apt, or a split-screen option with such info on the close (body) side and eye-catching patterns on the other for all the world to see.
If the Bracelite interests you, be sure to head over to Kickstarter and support them. $53 will get you a "Princess GIF," and $265 will get you the product itself. Normal MSRP is set at around $318.
Good luck.