Gaming On Apple Watch Defined By Lifeline... For Now
May 7, 2015
Gaming on Apple Watch will be a thing. I have little doubt of that. But the market won't really take off until a couple other things happen first.
At the technical level, Apple must allow native animations — and not just non-interactive GIF-style workarounds — in order that developers might truly present meaningful, fluid controls and reactive, dynamic visuals to the tiny worlds they wish to create. It seems like only a matter of time before Apple lifts this restriction.
But in the meantime (and after the fact, too), developers will have to tackle the bigger problem of designing around a diminutive, limited-input wearable that not only lends itself to but actually requires brief engagements as opposed to engrossing play sessions. Of the two hurdles to entertainment on Apple Watch, this one's going to be much more difficult for coders to leap past, and it's going to be a much longer waiting game than the one mentioned above.
Understandably, most Apple Watch games — like most Apple Watch apps — are underwhelming at the moment. It's almost as if they can't not be. Even our Best Games list leaves a lot to be desired. Fortunately, though, there are a couple of standouts in that roundup that definitely deserve your attention (limited by necessity that said attention must be). We already covered one, and this other text-driven adventure is even more compelling. It's called Lifeline…, and it's got quite the cool vibe going: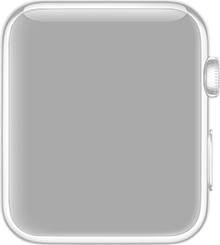 From the app's description:
Acclaimed writer Dave Justus (Fables: The Wolf Among Us) weaves a gripping interactive story through the aftermath of a crash landing on an alien moon. Taylor is stranded, the rest of the crew are dead or missing, and Taylor's communicator can only reach you.

A totally unique experience enabled by modern devices, this story plays out in real time. As Taylor works to stay alive, notifications deliver new messages throughout your day. Keep up as they come in, or catch up later when you're free. You can even respond to Taylor directly from your Apple Watch or your iPhone lock screen, without launching into the app.

Or, dive in and jump back to earlier points in the story, and see what happens when you make a different choice. Simple actions can have a profound effect.
Bear in mind, Justus wrote The Wolf Among Us comic series, not the familiar interactive Telltale game. Still, that award-winning title, based off of Justus' source material, had enough unique twists and turns (weird The Usual Suspects-style ending notwithstanding) that it really lent itself well to the choose-your-own-adventure genre. And that means that Lifeline… can be counted on to offer a compelling, replayable story.
Better, Lifeline… embraces Apple Watch's current shortcomings in the gaming space, using notifications to deliver an all-day background experience that's so casual, you can practically play the game without even thinking about it. The concept is by no means new, but it translates to Apple Watch — and is even enhanced by the very nature of the wearable as an always-on(-you) device — in a way that makes simple, easy sense. After all, much of Apple Watch's existence is predicated on glanceable data and streamlining notifications. With Lifeline…, somebody got your phone number, and they desperately need your help.
At this early time in the life cycle of Apple Watch as a device category, Lifeline… represents the first logical incarnation of gaming in the wearables space. You don't need an Apple Watch to play it, as your iPhone is fundamentally suited to texts as well, but the experience is more convenient and intimate at the wrist.
Speaking of intimacy, I can't wait for the update that brings the Taptic Engine into play, as I imagine our freaked-out protagonist's vitals are all over the place.
Being able to feel stuff like that will make gaming on Apple Watch even better.
Update: Released about three weeks ago, Lifeline… already has nearly 1475 reviews and a 4.5-star rating in the App Store. It is the number-two paid game on iPhone at the time of this writing. Naturally, many of the top reviews (but by no means all of them) promote the unique aspects of the game's Apple Watch integration, and I'd be surprised if that compatibility wasn't a big reason for the title's early success. People definitely want to game on Apple Watch.